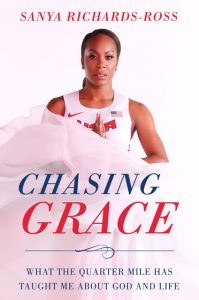 GRAND RAPIDS, Mich.,
April 17, 2017
—
Chasing Grace: What the Quarter Mile Has Taught Me About God and Life
by Sanya Richards-Ross, one of the most-decorated female track and field athletes of all time, has received acclaim from legendary athletes and celebrities including Usain Bolt, Michael Strahan, Laila Ali, Jackie Joyner-Kersee, Vince Young, Estelle, Sarah Jakes Roberts and more.
"I'm proud of everything Sanya has accomplished, including the writing of Chasing Grace," says Usain Bolt. "Through her vulnerability in sharing some of her most personal stories of victory and defeat, triumph and tribulation, I once again see her strength." Per Jackie Joyner-Kersee, "Chasing Grace is the script for a manual that can help guide anyone wanting to be the best. Once you start reading, you will find it difficult to stop turning the pages in the anticipation of wanting more."

Michael Strahan said, "More than a story about achievement and victory, Sanya's book delivers as a journey of discovery. It is honest and heartfelt, and I believe she openly examines her life's work in the pursuit of helping others live their dreams."
In Chasing Grace, Richards-Ross shares her sometimes heartbreaking, ultimately triumphant journey from childhood to the gold medal podium at multiple Olympic games. Richards-Ross opens-up about her struggles with body image, her relationship with husband and two-time NFL Super Bowl champion Aaron Ross, and the faith that has sustained and propelled her. For the first time, she vulnerably details her painful struggles with her defeat at the Beijing Games.
Zondervan
is a world leading Bible publisher and provider of Christian communications.  Zondervan, part of HarperCollins Christian Publishing, Inc., delivers transformational Christian experiences through its bestselling Bibles, books, curriculum, academic resources and digital products. The Company's products are sold worldwide and translated into nearly 200 languages. Zondervan offices are located in Grand Rapids, Mich.  For additional information, please visit
www.zondervan.com
.