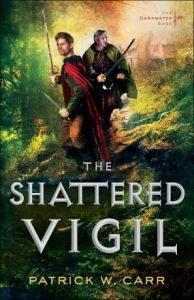 Ada, Mich. (July 3, 2017)—The 2017 INSPY award winners were recently announced by the INSPY Advisory Board. The Shattered Vigil by Patrick W. Carr won in the Speculative Fiction category. The INSPYs were created by bloggers to showcase the best novels that grapple with issues of faith, and to help readers find the very best of Christian literature. For the complete list of winners, please visit http://inspys.com/?p=3386.
The Shattered Vigil by Patrick W. Carr
(Bethany House; ISBN 9780764213472; ebook ISBN 9781441265470; $15.99)
The INSPY Board says that Carr's "command of multiple characters and settings brought together the genres of fantasy and mystery in a satisfying journey." In The Shattered Vigil, victory over the dark forces should have guaranteed safety for the continent. Instead, Willet and the rest of the Vigil discover they've been outsmarted by those seeking to unleash the evil that inhabits the Darkwater. One of the Vigil is missing, and new attacks have struck at the six kingdoms' ability to defend themselves. Worse, a deadly new threat has emerged—assassins hunting the Vigil, men and women who cannot be seen until it's too late. To thwart the perilous new risk, the church makes the drastic decision to safeguard the Vigil by taking the surviving members into protective custody. But there are secrets only the Vigil can unearth, and so Pellin makes the heart-wrenching choice to oppose the church in a race to turn back the evil that threatens an entire continent.
Bethany House has been publishing high quality books for over 50 years. Recognized as the pioneer and leader in Christian fiction, we publish over 75 new fiction and nonfiction titles annually in subjects including historical and contemporary fiction, Christian living, devotional, family resources, and theology. Our titles are frequently found on Christian bestseller lists.
Baker Publishing Group publishes high-quality writings that represent historic Christianity and serve the diverse interests and concerns of evangelical readers.
Contact: Lynnae Lubbers
(616)676-9185 x193  llubbers@bakerpublishinggroup.com