I'll Push You: A Journey of 500 miles, two best friends, and one wheelchair by Patrick Gray and Justin Skeesuck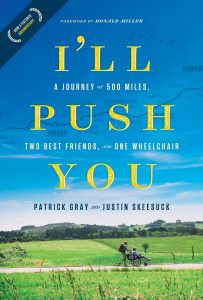 Carol Stream, Ill. – On Good Friday, Tyndale Momentum (@tyndalehouse) authors Patrick Gray and Justin Skeesuck (@illpushyou) appeared on NBC's "Today," in a pre-produced segment narrated by correspondent Jenna Bush Hager. The featured book, I'll Push You: A Journey of 500 miles, two best friends, and one wheelchair (ISBN 978-1-4964-2170-8, $15.99 SC), which includes a foreword by Donald Miller, releases in early June.
Just hours after the segment, the book (www.illpushyou.com) rocketed to near the top of multiple online retailer hourly best seller lists. In addition, the segment was shared on NBC's Facebook page (http://www.today.com/kindness/i-ll-push-you-man-pushes-wheelchair-bound-best-friend-t110422) and has received more than 17,000 likes, while ABC News followed up with an article of its own several days later (http://abcnews.go.com/Lifestyle/idaho-man-pushes-best-friend-wheelchair-trek-500/story?id=46831152).
The segment told the story of two friends who, born in the same hospital two days apart, grew up together, faced life shoulder to shoulder, and were best man in each other's weddings. But then the unexpected struck—Justin was diagnosed with a progressive neuromuscular disease that robbed him the use of his arms and legs. When Justin shared his dream of traveling the famous Camino de Santiago—a spiritual pilgrimage through the mountains and rough terrain of northern Spain—Patrick immediately volunteered to push Justin in his wheelchair. Their six-week, 500-mile trek, with its physical challenges, host of colorful characters, and deep inner battles, would prove to be the most difficult and important journey either man would take.
In addition to the book, a feature length documentary by the same name will release later this month. It has been selected to be premiered at The 2017 Newport Beach Film Festival. Four screenings of the film will be presented at Newport.
I'll Push You will feature a national publicity and speaking tour beginning in late May.