INDUSTRY NEWS
Books & Culture Ends 21-Year Run
The November/December 2016 issue of the bimonthly review Books & Culture will be its last after a run of 128 issues over 21 years. Earlier this month, the ministry of Christianity Today made the difficult decision to end the beloved publication. In the final issue's "Note to Our Readers," Christianity Today President and CEO Harold Smith explains, "Publishing print in a digital age is hard. Publishing print that is thoughtful is even harder. And as a result, all that red ink has sadly forced Christianity Today to end the exceptional run of this outstanding Christian thought journal with this issue." more
---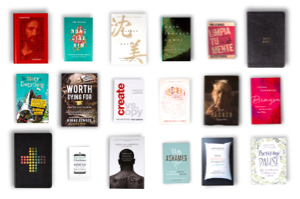 ECPA Announces Best Book Cover Designs of 2016
ECPA announced the winners of the 2016 Top Shelf Book Cover Awards on Thursday at Trinity International University during the opening session of PUBu among nearly 200 industry professionals.
A record number of recipients – 16 books and 2 Bibles – were chosen this year as winners by the esteemed judging panel of Barbara de Wilde(creative director for Cooking and Beta digital product group at The New York Times), Anne Twomey (vp., creative director at Grand Central Publishing and Warner Books), and Bruce Gore(former art director at Simon & Schuster's Howard Books imprint).
The 2016 Top Shelf Book Cover Award winners are: more
---
Call for submissions for Outreach Resources of the Year
Outreach magazine is accepting submissions for consideration for the 14th Annual Outreach Resources of the Year, which will be featured in the March/April 2017 issue. The Resources of the Year honors resources geared toward church leaders, specifically focused on outreach in areas such as evangelism, apologetics, compassionate service and cross-cultural ministry. Submitted works will be considered only if they were released and available to the public between Nov. 1, 2015, and Oct. 31, 2016. Deadline is November 4. To submit a resource for consideration, please email MBerg@Outreach.com to request a submission form and further instructions.
---
OTHER NEWS:
PUBLISHING

DATA & WORKFLOW

MARKETING
UPCOMING
MILESTONES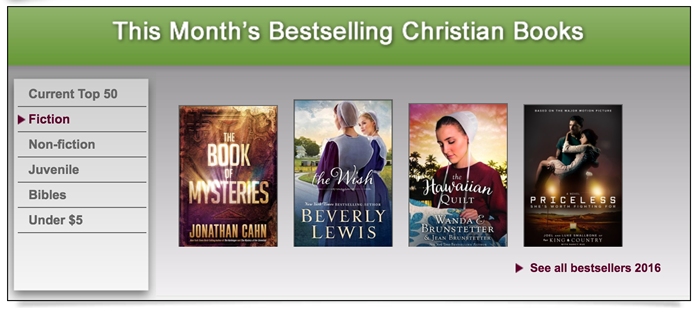 The bestselling Christian books this month in Top 50, Fiction, NonFiction, Juvenile, Bibles, Under $5, and more
at ChristianBestsellerLists.com
---
God is With You Every Day by Max Lucado Surpasses 100,000 Units
God Is With You Every Day, Max Lucado's first daily devotional since Grace for the Moment®, has surpassed more than 100,000 units sold, Thomas Nelson announced today. "To surpass 100,000 units in sales less than a year from release is a testament to the impactful way that Max relates to Scripture," said Laura Minchew, senior v-p and publisher for Gift Books, Tommy Nelson Children's Books, and New Media at Thomas Nelson. "Max is a trusted pastor who feels like a family friend to readers. It is not surprising so many people have found comfort and meaning in the message that God is always near through every season of life." more
---
Crazy Busy Surpasses 100,000 in Print with Crossway
Crossway is pleased to announce that Kevin DeYoung's book Crazy Busy: A (Mercifully) Short Book about a (Really) Big Problem (Crossway, September 2013) has surpassed 100,000 units in print sales. Awarded the 2014 Christian Book of the Year by the Evangelical Christian Publishers Association (ECPA), Crazy Busy confronts the busy, modern American life where jam-packed schedules have become the new normal offering biblical tools to get to the root of frantic lifestyles. more
---

Nearly 200 industry professionals gather to hear Ken Wytsma in the opening session of ECPA's PUBu, last Thursday.
MEDIA ANNOUNCEMENTS
B&H Re-launches BHBloggers.com For Streamlined Book Reviews
B&H Publishing Group announces the re-launch of its blogger team, "B&H/LifeWay Bloggers," with a new website and streamlined process for receiving and reviewing books. The new website launched in early October at www.bhbloggers.com. B&H/LifeWay Bloggers gives bloggers the opportunity to review B&H books and, for the first time, Bible studies from LifeWay Christian Resources. more
---
BroadStreet Publishing Author Donates Thousands of Books to Military Families
Author Tara McClary Reeves has partnered with Clebe McClary Ministries, Triplecord Family Foundation, and BroadStreet Publishing to donate 4,000 copies of her new devotional, Point Me to Jesus: Devotions for Parents and Children, as part of an ongoing support program for military families. Her father Clebe McClary, a decorated Vietnam War veteran, and her mother, Deanna, know all too well the sacrifices made by men, women, and children in our military community. Their prayer is this devotional, based on the unchanging truth of God's Word, will give our frontline heroes strength for the journey. Tara and the McClarys urge all Americans to take action and do whatever they can to champion those willing to risk their lives for our own.
---
Bible Gateway Interviews Raechel Myers and Amanda Bible Williams, authors of She Reads Truth
What does it mean that only God and his Word remain unchanged as the world shifts and slips away? What are the everyday implications that God and his Word are true; right now and all the time? What place should Scripture have in your life and why does it matter? Bible Gateway interviewed Raechel Myers (@RaechelMyers) and Amanda Bible Williams (@BibleWilliams) about their book, She Reads Truth: Holding Tight to Permanent in a World That's Passing Away (B&H Books, 2016). Read this interview.
---

Bible Gateway Interviews Dr. Vern S. Poythress on Reading the Word of God in the Presence of God
Do you need a practical handbook to help you grow your skill in interpreting the Bible? Are you serious about diving into the deep waters of proper Bible interpretation methodology? Bible Gateway interviewed Dr. Vern S. Poythress (@vernpoythress) about his book, Reading the Word of God in the Presence of God: A Handbook for Biblical Interpretation (Crossway, 2016). Read this interview.
---

PRODUCT NEWS
NKJV Know The Word Study releases tomorrow
Studying the Bible does not have to be an intimidating or overwhelming experience. The study of God's Word can be easy and rewarding if the Bible is broken down into easy-to-understand segments. The NKJV Know The Word Study Bible (on sale October 18, 2016) offers three easy ways to begin studying Scripture and helps individuals transition from being casual readers of the Bible to becoming regular students of the Word. Whether readers prefer to study the Bible book by book, verse by verse, or topic by topic, each starting point offers powerful insights that will help them develop a daily routine of Bible study. more
---
Finding Gobi To Be Published through HarperCollins Global Publishing Program
W Publishing Group, an imprint of Thomas Nelson, and Harper Non-Fiction of HarperCollins UK announced today they have signed world rights for Finding Gobi, a memoir based on an international news-story sensation about Dion Leonard, ultra marathoner who befriends a stray dog in China's harsh Gobi Desert. A simultaneous release is scheduled for June 2017 in the U.S., Canada, Australia and the United Kingdom. In addition, it will be published as part of HarperCollins Global Publishing Program in Holland, Japan, and in Spanish in the U.S., LATAM and Spain. more
---
Recent FaithWords Acquisitions
BLESSED LIFE by Kim Fields (Pub Date: 11/14/2017): Kim Fields, a star in front of the camera and behind it for nearly 5 decades, and a truly beloved pop icon, has signed up to write her memoir for HBG USA. In Blessed Life, Fields will take a revealing and inspiring look at her personal life and public career, from her earliest days in Harlem to stardom in Hollywood and beyond, as an adult of deep and passionate faith whose favorite and most important roles are marriage and motherhood.
GOD IS FOR REAL by Todd Burpo: If Todd's first book, HEAVEN IS FOR REAL, was about the then and there in heaven, then GOD IS FOR REAL is about the here and now on earth. Todd isn't afraid to get into the nitty-gritty people face on a day-to-day basis. Todd charges into these subjects with a fireman's courage, a small town friend's faithfulness, and a local pastor's sense of compassion. He helps articulate the questions people have, and then offers relevant biblical wisdom for taking next steps in faith.
---

CAREER CENTER
Endnotes
Submit a News Item
Send your industry related news release to RushtoPress@ecpa.org. Rush to Press is sent every Monday and eligible releases must be received by end of day Friday prior to the Monday's publication, for consideration.
Announce A Job Opening
To announce a job opening in Rush to Press, post it first at the Career Center for Christian Publishing at ecpa.org/careers and your announcement will appear in our next issue.
Subscribe to Rush to Press
To receive Rush to Press, along with other industry updates from ECPA, please follow the instructions here to create or modify your ECPA community profile.
To receive Rush to Press only, subscribe here.
Unsubscribe
If you would like to be removed from the Rush to Press distribution list, please follow instructions to edit your ECPA community profile preferences at http://www.ecpa.org/?unsubscribe.
Advertise
If you would like to reach over 3,000 industry subscribers and media contacts each week, consider advertising in Rush to Press with a banner ad. Contact sponsorship@ecpa.org for more information.
Every press release in this electronic news service is received from the original source. No statement herein can be attributed to ECPA unless originally created by this association. No endorsement expressed or implied.

This is a publication of the Evangelical Christian Publishers Association. For more information about ECPA, contact info@ecpa.org or visit www.ecpa.org. FrontGate Media hosts an ECPA press archive at www.FrontGateMedia.com/ECPAnews.
here