INDUSTRY NEWS
IVP issues statement about Peter O'Brien plagiarism issue
Following the August announcement by William B. Eerdmans Publishing Co. regarding plagiarism in two Pillar New Testament Commentaries written by Peter O'Brien, a careful investigation was undertaken of Dr. O'Brien's two volumes in the New Studies in Biblical Theology series published by InterVarsity Press (USA). It is with sadness that we report that both God Has Spoken in His Son (2016) and Salvation to the Ends of the Earth (2001, co-authored with Andreas Kostenberger) were discovered to have the same problems regarding the use and proper documentation of secondary sources. more
---
New name for Canadian distribution company
Greg Tombs, President and Hardy Willms, Chief Financial Officer of David C Cook Distribution Canada and Augsburg Fortress Canada, are pleased to announce the new name for their company effective September 23, 2016: Parasource Marketing and Distribution Ltd. Tombs and Willms engaged with branding and design experts, Riordon Design, in Oakville, Ontario, to conduct extensive research and consultation with both customers and suppliers to understand the way in which both Cook and Augsburg Canada were perceived in the Christian marketplace. more
---
PUBu will feature keynote Ken Wytsma and Michael Covington in three plenary sesssions

The upcoming PUBu, held October 13-14 in Chicago, will feature Kilns College president and Justice Conference founder Ken Wytsma in its opening and closing general sessions. Compliments of Moody Publishers, attendees will receive Ken's most recent book, Create vs. Copy: Embrace Change. Ignite Creativity. Break Through with Imagination, as he inspires industry professionals to ignite their creative gifts in speaking to the present and engaging the future. In the closing keynote, Ken will expound on a theology of creativity and demonstrate that our creative potential is given to us to serve redemptive ends. You won't want to miss this unique opportunity to hear Ken speak to the industry, and also to learn about a new approach toward efficiency in publishing called "Agile" that will be presented by FuturePub founder Michael Covington on Thursday evening. Michael will present "Embracing Agile: Improve Your Teams and the Work They Create Through Adaptive Processes." These general sessions combined with 30 in-depth community sessions, meals and mixers, pack in a relevant and valuable program for Christian publishing professionals.
ECPA PUBu | October 13-14, 2016 | Trinity International University Chicago | NOT TOO LATE TO REGISTER
---

---
IVP welcomes Academic and Library Marketing Manager
InterVarsity Press is pleased to announce Parker Hathaway as IVP's new academic and library marketing manager. "I am delighted to have the opportunity to work with Parker Hathaway in his role here at IVP," said Helen Lee, IVP's director of marketing. "I had been acquainted with Parker's excellent marketing skills before he joined us, and I am thrilled that our books and authors will now have the opportunity to benefit from his experience and energy." more
---
Three Christian publishers sign new distribution agreements with AtlasBooks
AtlasBooks, the distribution division of Bookmasters, has signed new agreements with three Christian publishers to distribute their titles in the United States and abroad. These publishers are John Ritchie Limited, Deep River Books, and Mark Cahill Ministries. more
---
Abingdon Press partners with Noble Marketing
Abingdon Press and Noble Marketing have forged a new partnership effective September 2016. Through this relationship, Noble Marketing will undertake sales of Abingdon Press trade products to the independent Christian bookstore channel, as well as academic, church, and seminary bookstores. Noble Marketing Group has established relationships with over 700 CBA accounts. more
---

---
Paraclete Press announces the establishment of the"Phyllis Tickle Award in Poetry"
Paraclete Press is pleased to announce the establishment of the Phyllis Tickle Award in Poetry, honoring our longtime friend, advisor, and member of Paraclete's editorial board, Phyllis Tickle (1924 – 2015). This award will be given every other year to a writer for the publication, with Paraclete, of their first volume of poems. For many years, Phyllis helped guide and shape Paraclete Press's poetry line. She wrote, "Paraclete is firmly rooted in presenting and curating religious poetry as that part of the verbal experience which, being couched more deeply in the aesthetic than the didactic, has deep resonance and potent significance for the shaping of the surrounding culture." more
---
Faith Follow launches as social media site for the Christian community
Faith Follow launched today as a new social media platform with a mission to foster and enhance a strong Christian faith community. Available for Android, iOS and web, Faith Follow is designed to be a safe place for users to come for inspiration, support, fellowship, encouragement and education. more
---
Publisher sales $2.14 billion in the first quarter of 2016; decline 2.7% year-over-year
StatShot data from the Association of American Publishers show that audiobooks and paperbacks remain popular, as eBooks continue their decline. Publishers' revenues were down 3.0% in March 2016, and 2.7% for the first quarter of 2016 vs. the same timeframes in 2015. Trade books declined 7.4% in the first quarter due to declines in the largest categories, Adult Books (-10.3%) and Childrens/YA (-2.1%). With the trade category down, the decline in eBooks was pronounced - down 21.4% for March and 21.8% year-over-year. more
---

---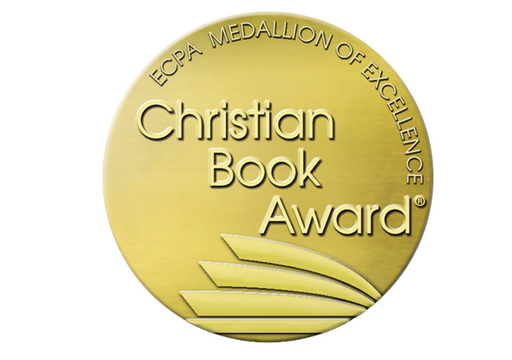 Last call for Christian Book Award® submissions; closes Sept. 30
ECPA member publishers are invited to nominate their titles for consideration of the Christian Book Award® in eleven categories: Bibles, Bible Reference works, Bible Study, Ministry Resources, Biography & Memoir, Christian Living, Faith & Culture, Devotion & Gift, Children (ages 0-8), Young People's Literature, New Author. more
---
OTHER NEWS:
PUBLISHING
UPCOMING
---

MILESTONES
LifeWay Global/B&H Español wins 7 SEPA awards at Expolit 2016
LifeWay Global and its B&H Español division won seven awards at the Spanish Evangelical Publishers Association (SEPA) Awards held September 14 in Miami, Florida during Expolit 2016. Expolit, the largest annual Christian Spanish literature and music convention in the world, is designed to promote the growth of ministry and resources within Spanish-speaking markets. B&H Español won Publisher of the Year in 2013 and 2014 and won six awards in 2015 for its trade books and Bibles. This year, B&H Español won three awards for trade books and Bibles and three awards for sales excellence, and LifeWay Global won one award for the Cuarto de guerra (War Room) Bible study. more
---
The Book of Mysteries hits Bestseller lists: USAT, Amazon, Publisher's Weekly, Wall Street Journal
Jonathan Cahn's potent mix of Bible passages and end-times insights is no. 29 on USA Today's best-seller list, and that's just the start. Nielsen Bookscan ranks it no. 3 among all hardcover fiction titles in the book industry and no. 8 among all fiction titles (hardcover and trade). Also: In Amazon's top-100 listing, The Book of Mysteries is the no. 3 inspirational title; Publisher's Weekly ranks The Book of Mysteries no. 4 on hardcover fiction (up from last week's no. 33); The Book of Mysteries is No. 7 on Wall Street Journal hardcover fiction; Customers among the mass/ABA/CBA and specialty markets report strong sales and continual sell through. more
---
Announcing the first winner of the "Phyllis Tickle Prize in Poetry"
Paraclete Press is pleased to announce the first winner of the Phyllis Tickle Prize in Poetry which honors our longtime friend, advisor, and member of Paraclete's editorial board. This prize will be awarded every other year to a poet unpublished in volume form. Regina Walton was selected for this award for her forthcoming volume The Yearning Life, to be published in October, 2016. more
---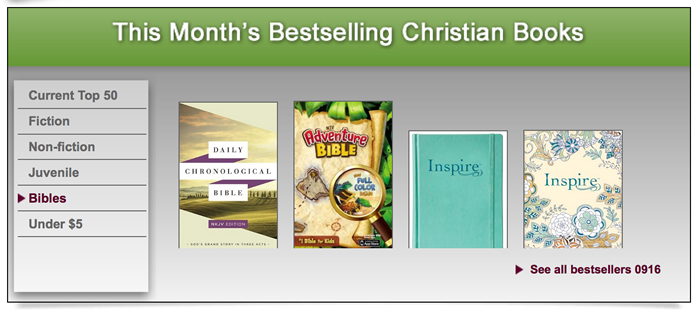 Check out the TOP 50 bestselling Christian books this month, along with the bestsellers in
Fiction, NonFiction, Juvenile, Bibles, Under $5, and more at ChristianBestsellerLists.com
MEDIA ANNOUNCEMENTS
Ten-city book tour announced for New York Times bestselling author Ann Voskamp
Ann Voskamp, the New York Timesbestselling author of One Thousand Gifts, will launch her upcoming book with a ten-city tour. The Broken Way: A Daring Path Into the Abundant Life releases from Zondervan on October 25. Voskamp will be traveling to New York City, Buffalo, Grand Rapids, Chicago, Oklahoma City, Nashville, Dallas, Fort Worth, Atlanta and Toronto for book events and signings. All tour information can be found at www.thebrokenway.com. more
---
Bible Gateway interviews Dr. David Bradstreet, author of Star Struck
The heavens beckon us, telling us this wonderful, mind-boggling cosmic display is indeed the work of the creator. And now, using rovers and satellites, explorations venture further out into the vastness of space than ever before. Bible Gateway interviewed Dr. David Bradstreet (@EUastronomy) about his book, Star Struck: Seeing the Creator in the Wonders of Our Cosmos (Zondervan, 2016).
---

PRODUCT NEWS
Zondervan signs three book deal with Olympic Gold Medalist Sanya Richards-Ross
Zondervan will publish three books by five-time Olympic medalist Sanya Richards-Ross, including an inspirational memoir set for release in July 2017. Richards-Ross will share her life story growing up in Jamaica and her rise to track superstardom. She will detail how she conquered the half mile to become the most-decorated female American Track & Field Olympian of all time and how she applies the same principles to her life as an entrepreneur, entertainer and humanitarian. more
---
New title confirms Bible accuracy in light of recently discovered ancient charred scroll; goes deeper
Skeptics of the Bible's reliability take another hit when an ancient charred scroll reaffirms the accuracy of Bible translations. The University of Kentucky has recently announced its ability to read an ancient burnt parchment found nearly half a century ago on the western shore of the Dead Sea using advanced computer technology. Not only does this fragment appear to be identical to the Masoretic text of the Hebrew Bible; it is 2,000 years older. Why do archaeological discoveries like this matter? Self-Guided Tour of the Bible (Rose Publishing) answers this very question while also deepening readers' understanding of the Bible's historical and geographical context. more
---
NKJV Word Study Bible unlocks the meaning of God's Word
Thomas Nelson Bibles is pleased to announce the release of the NKJV Word Study Bible (on sale Sept. 27). This easy-to-use Bible introduces readers to word studies in an approachable way, so they can gain basic knowledge of the ancient text and make it part of their daily study habits. more
CAREER CENTER
Endnotes
Submit a News Item
Send your industry related news release to RushtoPress@ecpa.org. Rush to Press is sent every Monday and eligible releases must be received by end of day Friday prior to the Monday's publication, for consideration.
Announce A Job Opening
To announce a job opening in Rush to Press, post it first at the Career Center for Christian Publishing at ecpa.org/careers and your announcement will appear in our next issue.
Subscribe to Rush to Press
To receive Rush to Press, along with other industry updates from ECPA, please follow the instructions here to create or modify your ECPA community profile.
To receive Rush to Press only, subscribe here.
Unsubscribe
If you would like to be removed from the Rush to Press distribution list, please follow instructions to edit your ECPA community profile preferences at http://www.ecpa.org/?unsubscribe.
Advertise
If you would like to reach over 3,000 industry subscribers and media contacts each week, consider advertising in Rush to Press with a banner ad. Contact sponsorship@ecpa.org for more information.
Every press release in this electronic news service is received from the original source. No statement herein can be attributed to ECPA unless originally created by this association. No endorsement expressed or implied.

This is a publication of the Evangelical Christian Publishers Association. For more information about ECPA, contact info@ecpa.org or visit www.ecpa.org. FrontGate Media hosts an ECPA press archive at www.FrontGateMedia.com/ECPAnews.
here