INDUSTRY NEWS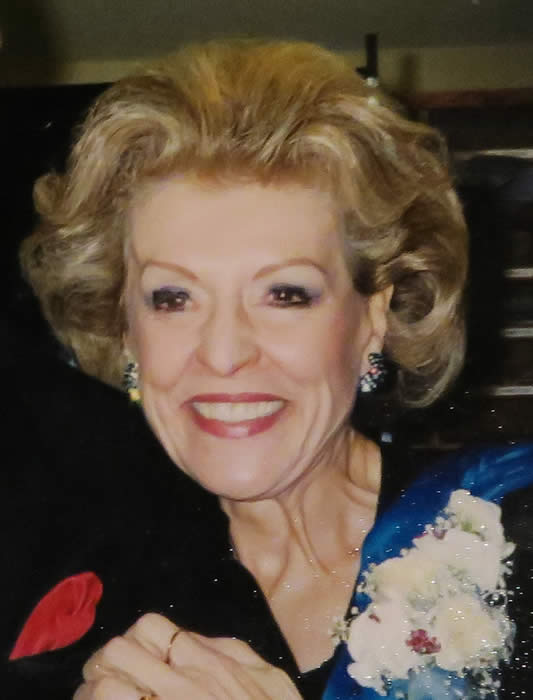 Shirley Hawkins, Wife of Harvest House Founder, Dies at 90
Shirley Jean Hawkins, loving wife of Harvest House Publishers' visionary founder, Bob Hawkins Sr., went home to be with the Lord on Wednesday, November 23, 2016. At 90, she died quickly after being diagnosed just weeks earlier with advanced inoperable ovarian cancer. A memorial celebration service will be held on Sunday, December 11, 2016 at 3:00 pm at First Baptist Church of Eugene, Oregon. Arrangements and private burial for family and close friends will be held at Rest-Haven Memorial Park in Eugene, Oregon. Though Shirley was recognized within the Christian publishing industry as the elegant and exuberant wife of innovative risk-taker Bob Sr., her clear passion was to her family and focusing her amazing vocal talents on glorifying God. Raised in Wenatchee, Washington, Shirley studied voice at Gonzaga, where she became the lone female soloist among 48 men in the university's prestigious traveling Glee Club.  Having received high accolades and great pleasure from appearing on such programs as The Bing Crosby Show and in such places as the San Francisco Opera House, her future in the entertainment industry seemed bright and promising.  But deep in her heart she was dissatisfied with the kind of life she was leading, and the prayers of her family intensified her uneasiness. more
---
Author Sandra D. Bricker Dies
This past weekend the Christian publishing community lost a dear sister, Sandra D. Bricker. She was the author of over twenty-five books and her storytelling has been enjoyed by thousands. Combining humor and spirituality with life lessons Sandie, as her friends call her, has carved out a niche for herself as an author of laugh-out-loud fiction for the inspirational market. As a multi-award winning author she was named the 2015 ACFW (American Christian Writers Association) Editor of the Year for her work in Christian romantic fiction. Sandie was one of Gilead Publishing's first authors and wrote one of the stories for our Christmas Anthology, Sleigh Bells Ring. more
---

---
OTHER NEWS:
INDUSTRY

PUBLISHING

EVENTS
---

MILESTONES
Finding Father Christmas Sets Hallmark Movie Records
Robin Jones Gunn's popular novel, Finding Father Christmas, premiered as a movie by the same name on the Hallmark Movies & Mysteries Channel, Sunday, November 13. Starring Erin Krakow (When Calls the Heart), Wendie Malick and Niall Matter, the first airing broke records for both the highest rated and the most watched premier on the network. The heartwarming story based on Gunn's Christmas novel published by FaithWords came in at #4 for all network programs that night. The Finding Father Christmas movie airs 20 times over the next six weeks, including Christmas Day. Talks are in the works with Hallmark for sequels based on Gunn's other Father Christmas novels: Engaging Father Christmas and Kissing Father Christmas, also published by FaithWords. Gunn is best-known for her Christy Miller Series for teens and her Christy Award-winning Sisterchicks novels. Her 90 titles have sold more than 5 million copies.
---
Kingstone Bible Sets Record
The Kingstone Bible recently set a second publishing industry record. Not only is the trilogy the most complete graphic adaptation of the Bible ever done, it is also now the largest non-serialized graphic novel ever produced in the history of the comics industry. In a statement released from Kingstone they state, "Once again, Jesus shows he is the ultimate super hero."
---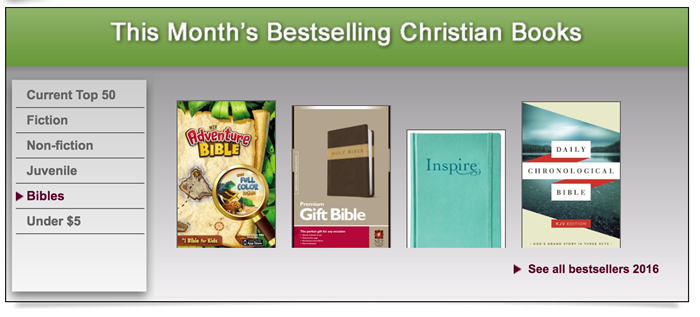 See the month's Christian bestsellers in Fiction, NonFiction, Juvenile, Bibles, and more at ChristianBestsellerLists.com
MEDIA ANNOUNCEMENTS
Bible Gateway Interviews Dr. Kathy Koch, author of Screens and Teens
Aided by the convenience and constant access provided by mobile devices, especially smartphones, 92% of teens report going online daily—including 24% who say they go online "almost constantly," according to a study from Pew Research Center. Technology is a non-negotiable for success in our educational, vocational, and social cultures. Yet, with all the advantages there are inherent dangers, deceptions, and abuses that can contribute to self-centered character, negative behaviors, and beliefs that inhibit spiritual growth. Bible Gateway interviewed Dr. Kathy Koch (@DrKathyKoch) about her book, Screens and Teens: Connecting with Our Kids in a Wireless World (Moody Publishers, 2015). Read this interview.
---

PRODUCT NEWS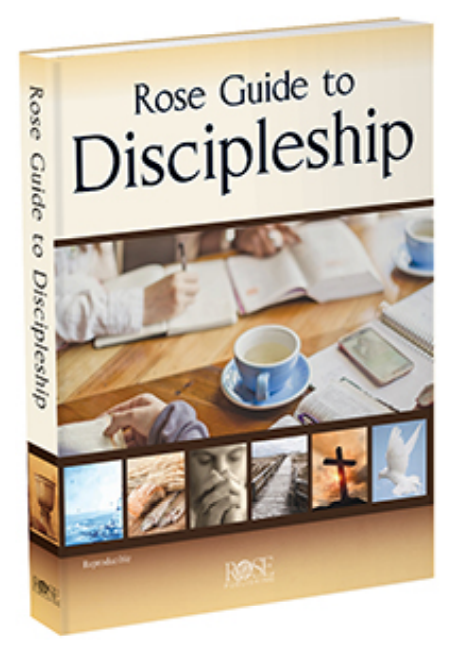 Most Christians Believe in the Importance of Spiritual Growth but Are Not Actively Engaged in Discipleship: Rose Publishing offers resource
The majority of people who claim to be followers of Christ say they want to grow spiritually (77 percent). Yet, a small percent of these adults are involved in some sort of discipleship activity (20 percent)*. There is a disconnect between what Christians say is important to them and what they actually do. Discipleship is designed to move people from religion to relationship. And this emphasis on discipleship is correlated with a higher faith engagement. So why don't more people participate in discipleship? Why are we reluctant to join opportunities to grow our faith? Past generations of Americans clearly understood what it meant to follow Christ, grow in faith, or live a godly life. But the slow erosion of this understanding has left many people with a fragile understanding of what it means to be a Christ-follower. The Rose Guide to Discipleship (Rose Publishing) recognizes the desire people have for discipleship but also provides practical ways to overcome common barriers. more
CAREER CENTER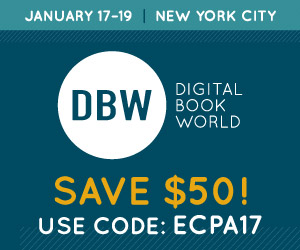 Baker Publishing Group - Grand Rapids, Michigan


Tyndale House Publishers - Carol Stream, Illinois


HarperCollins Christian Publishing - Nashville, Tennessee


HarperCollins Christian Publishing - Nashville/Grand Rapids


HarperCollins Christian Publishing - Grand Rapids, Michigan


Our Daily Bread Ministries - Grand Rapids MI, Michigan


Familylife Publishing - Little Rock, Arkansas


The Navigators - Colorado Springs, Colorado


Abingdon Press - Nashville, Tennessee
---
Endnotes
Submit a News Item
Send your industry related news release to RushtoPress@ecpa.org. Rush to Press is sent every Monday and eligible releases must be received by end of day Friday prior to the Monday's publication, for consideration.
Announce A Job Opening
To announce a job opening in Rush to Press, post it first at the Career Center for Christian Publishing at ecpa.org/careers and your announcement will appear in our next issue.
Subscribe to Rush to Press
To receive Rush to Press, along with other industry updates from ECPA, please follow the instructions here to create or modify your ECPA community profile.
To receive Rush to Press only, subscribe here.
Unsubscribe
If you would like to be removed from the Rush to Press distribution list, please follow instructions to edit your ECPA community profile preferences at http://www.ecpa.org/?unsubscribe.
Advertise
If you would like to reach over 3,000 industry subscribers and media contacts each week, consider advertising in Rush to Press with a banner ad. Contact sponsorship@ecpa.org for more information.
Every press release in this electronic news service is received from the original source. No statement herein can be attributed to ECPA unless originally created by this association. No endorsement expressed or implied.

This is a publication of the Evangelical Christian Publishers Association. For more information about ECPA, contact info@ecpa.org or visit www.ecpa.org. FrontGate Media hosts an ECPA press archive at www.FrontGateMedia.com/ECPAnews.
here