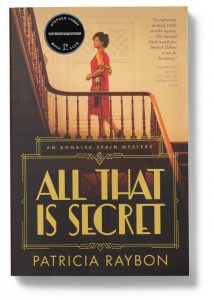 CAROL STREAM, ILL. (February 18, 2022)—Tyndale is pleased to announce that Stephen Curry's Literati book club, Underrated, which is committed to championing often overlooked authors and stories, has selected All That is Secret by Patricia Raybon as its March 2022 pick for readers. As one of Literati's original Luminaries, Stephen identifies stories that feature diverse protagonists around social justice issues, encouraging readers to push their boundaries.
All That Is Secret is the first book in a compelling historical mystery series by award-winning author and essayist Patricia Raybon. It centers around a young Black theologian's journey to solve her father's cold case murder in a city ruled by the KKK. The crime fiction novel was selected by Parade Magazine as a fall 2021 "Mysteries We Love" as well as PBS Masterpiece's "Best Mystery Books of 2021: As Recommended by Bestselling Authors." CrimeReads also included it as a "Best Debut Novels" pick for October 2021.
Upon receiving this honor, author Patricia Raybon shared, "I'm thrilled by NBA all-star Stephen Curry's selection of my novel. I admire him so much—his commitment to faith and family, community and social justice, and of course, his athletic prowess and achievements. Then there's his love of books and reading. He cares that both children and adults fall in love with reading to learn, grow, find themselves, and connect with others. To know he's sharing my story of a young Black theologian–turned–amateur detective with fellow booklovers is a highlight beyond measure."
Tyndale fiction Senior Acquisitions Editor Stephanie Broene offered, "We're so honored that Stephen Curry has chosen to feature Patricia Raybon's All That Is Secret as a book club pick. We believe Patricia has enormous talent and potential, and we can't wait for readers to be swept up into this compelling mystery!"
Other books selected for Stephen Curry's book club have included The Other Wes Moore by Wes Moore, The Gilded Ones by Namina Forna, and Haben by Haben Girma.
For more information on Stephen Curry's book club, visit https://literati.com/book-clubs/stephen-curry/. For media information on All That is Secret, visit https://mediacenter.tyndale.com/p/all-that-is-secret/9781496458377.
Since its founding in 1962, Tyndale House Publishers has been a voice to trust for generations of readers. Today, Tyndale is one of the largest independent Christian publishers in the world. Tyndale's mission is to make the Bible accessible to as many people as possible in language that they can relate and respond to. Tyndale publishes the Holy Bible, New Living Translation (NLT) and offers nonfiction books that equip readers with Christ-centered insight, counsel, and life-improving stories. In addition, Tyndale publishes fiction from fresh new voices and celebrated authors alike, capturing the imagination of millions of readers. With a deep understanding of the importance of nurturing future generations, Tyndale also publishes children's products that make God's Word and wisdom come alive. Tyndale's independent status allows it to follow its founding model, giving a majority of annual revenue—more than $110 million throughout its history—to charitable missions. With every book purchased, Tyndale readers help meet the physical and spiritual needs of people around the world.
Contact: Isabella Graunke, Publicist, isabellagraunke@tyndale.com