December 9, 2019 Edition
HOLIDAY SCHEDULE:  There will not be a Rush to Press issue on Dec. 23 in recognition of Christmas.
Industry News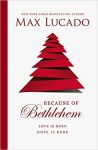 ECPA releases December Bestseller Lists
Eight books devoted to Christmas and Advent, along with ten books designed for devotional reading, populate ECPA's Top 50 bestsellers list for December. At #9 is the highest-ranking Christmas title, Because of Bethlehem by Max Lucado (Thomas Nelson). New Advent titles appearing on the list include two Abingdon titles, Almost Christmas by Magrey deVega and Light of the World by Amy-Jill Levine. New Christmas title Godwink Christmas Stories by Squire Rushnell (Howard) appears at #39.

Tina Constable, Executive Vice President & Publisher, Random House Christian Publishing and Crown Forum, announced that Laura Barker is promoted to Vice President and Publisher of WaterBrook and Multnomah, effective immediately. Constable said, "Laura is a highly regarded executive in Christian publishing and one of the valued members of the WaterBrook and Multnomah leadership team. For the past five years, most recently as Editor in Chief, Laura has worked closely with me to help shape our acquisition strategy, and with more than twenty years of experience in Christian publishing, she has consistently demonstrated a keen insight about the overall marketplace."
Read More...
Amanda Bostic promoted to VP and publisher of Thomas Nelson and Zondervan Fiction
HarperCollins Christian Publishing has announced that Amanda Bostic has been promoted to VP, Publisher for Fiction. Amanda began her career on the Thomas Nelson Fiction team in 2004 as an associate editor and in 2017 was named the publisher for HCCP Fiction. "Amanda leads her team with clarity and passion and the results they have achieved together speak for themselves – namely six 2019 Christy Awards, including Book of the Year," states Don Jacobson, SVP, Books Group Publisher. "During my short time at HCCP, it has become very clear that Amanda is more than ready for the next step in her career."

Laura Barker, Vice President and Publisher of WaterBrook and Multnomah, announced the promotion of Andrew Stoddard to Editorial Director, WaterBrook and Multnomah, effective immediately.
Read More...
Milestones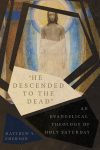 With nearly three hundred books reviewed each year between their academic journal Themelios and their regular book review section, The Gospel Coalition has chosen two IVP titles among its top twelve books of the year. The Gospel Coalition 2019 Book Awards went to "He Descended to the Dead" and "A Big Gospel in Small Places."
Read More...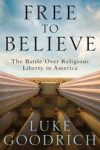 One of the nation's top attorneys, Luke Goodrich, was recently honored with two noteworthy awards for his new book "Free to Believe: The Battle Over Religious Liberty in America" (Multnomah).
Read More...
Media Announcements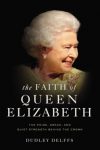 Bible Gateway interviews Dudley Delffs, author of "The Faith of Queen Elizabeth"
What role does the Bible have in the life of Queen Elizabeth II, the longest reigning monarch in British history? How has her inspirational character and profound faith been shaped by Scripture? Bible Gateway interviewed Dudley Delffs, author of "The Faith of Queen Elizabeth: The Poise, Grace and Quiet Strength Behind the Crown" (Zondervan, 2019).

Bible Gateway interviews Cynthia Heald, author of "The Faithful Way"
What does the Bible mean when it speaks of being faithful and steadfast? How should we best guard our hearts and be on the alert against temptation? What are the daily routines we should establish to follow Christ well and finish strong? Bible Gateway interviewed Cynthia Heald, author of "The Faithful Way: Remaining Steadfast in an Uncertain World" (NavPress, 2019).

Baker Book House knows reading is its own reward, but that hasn't stopped the store from rewarding readers too. This past summer, Baker's summer reading program had 1,802 participants who earned a combined total of $18,615 in store gift certificates. This December, the store is adding a new reward program aimed at Christmas break. So far, 13 area schools have taken up Baker's new Christmas Break Reading Challenge.
Read More...
Product News

Christopher L. Heuertz has signed a contract with InterVarsity Press to serve as the series editor for Enneagram Daily Reflections, which will provide daily readings for those who want to learn more about the Enneagram, a personality typing system. The series is scheduled to release in October 2020.
Read More...

Iron Stream Media announces "The Peaceful Caregiver: From Stressed to Blessed" (Ascender Books) by author, caregiver, and caregiver advocate Mary Tutterow.
Read More...
Other News