August 13, 2018 Edition
Industry News

Hachette Book Group (HBG) and Worthy Publishing Group announced today HBG's agreement to acquire the assets of Worthy. When the acquisition is complete, Worthy will join Hachette's Nashville publishing division, which also includes the FaithWords and Center Street imprints. Until further notice, Worthy's list will continue to be sold and serviced as it is today.
Read More...

Former Howard editor Denny Audette Boultinghouse passes
Denny Boultinghouse was born in Shreveport, Louisiana, on September 1, 1950 and passed away in Franklin, Tennessee, on July 28, 2018, at the age of 67. His final professional years were spent working with Howard Publishing as an acquisition editor. He worked with authors like Rubel Shelly, Mike Cope, Rick Warren, John Baker, Joe Beam and many more.

ECPA welcomes new member
The Reformed Free Publishing Association recently joined ECPA as a small press member.  RFPA prints material that testifies to the truth of Scripture as understood and developed in the Reformed tradition.

ECPA PubU to gather marketing & publicity publishing professionals for in-depth sessions, November 6-7 in Nashville
Developed by B&H Marketing VP Dave Schroeder, the marketing and publicity track at PubU will bring in top professionals to share in-depth and practical insights while providing the best possible book marketing and publicity education for attendees to grow and lead in their discipline. Sessions include:
How Consumer Data Makes You a Better Marketer
– David Barker, ReaderLink
Building a Community of Readers
– Andrew Peterson & Pete Peterson, The Rabbit Room
Coaching Authors to Success
– David Loy, Leverage Creative Group
Making Digital Videos That Sell Books
– Matt Burch, Paramore Digital
20 Ways Instagram and Facebook Will Help You Sell Books
5 Essentials in Building Effective Book Websites
– Ryan Frederick, EMG
How to Boost Sales at Amazon for Free
– Rob Eagar, Wildfire Books
PubU will feature more than 40 sessions in marketing & publicity, editorial, design, rights, reader engagement, and data, delivery & workflow for Christian publishing professionals, plus two plenary sessions with DONALD MILLER and NPD Book's KRISTEN MCLEAN.
Register at ECPAPubU.org

Seminars announced for Art of Writing afternoon conference, immediately following PubU on November 7
The Art of Writing conference is designed for both aspiring & published authors and Christian publishing professionals, and is held the afternoon of November 7 at Lipscomb University in Nashville.  The event bridges PubU (the industry's publishing conference) and The Christy Award™ Gala, the premier Christian fiction awards celebration held that evening.  The Art of Writing conference announces its four afternoon sessions:
How StoryBrand Inspires Publishers & Writers with Donald Miller (shared session with PubU)
Mythbusters: Publishing Edition with Amy Green (Bethany House) and publishing executives
Learning from the Masters with Sarah Arthur
Difficult Topics, Happily Ever After and Hope with Charles Martin, Carla Laureano, Jerry Jenkins, and Joanne Bischof
That evening, Christian fiction and the legacy of Madeline L'Engle will be honored at The Christy Award™ Dinner Gala in Lipscomb's Shamblin Theatre, featuring Francine Rivers, Charles Martin, Sarah Arthur, Carla Laureano, and Cynthia Ruchti, among other industry greats who will participate in announcing the year's best Christian fiction.  Both events are bundled for only $99.  PubU attendees receive a special rate available on PubU registration form.
Register at ChristyAwards.com
---
Nashville's inaugural WriterFest will convene the following day, November 8-9, so plan to make it a fabulous week of industry training and inspiration at Lipscomb in Nashville!
---

PW Editorial Calls for Religion Books:
Publishers Weekly will be featuring the following special issues and is calling for information on titles that fit these genres.  This is a terrific opportunity to promote your fall titles or backlist to retailers and librarians.
Scholarly Religion Books by August 13
Christian Fiction by August 15
Sexuality & Religion by August 20
Self-Help Books by August 20
Milestones

Darron Schroeder, assistant manager and children's product buyer at Baker Book House, and Amy Green, senior fiction publicist at Bethany House, have been chosen as nominees in the fourth annual PW Star Watch award and celebration. Publishers Weekly, in association with Frankfurter Buchmesse, created PW Star Watch to identify, celebrate, and mentor up-and-coming members of the US and Canadian publishing communities and bring recognition to them on a wider platform.
Read More...
Media Announcements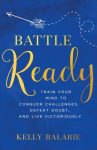 Bible Gateway interviews Kelly Balarie, author of "Battle Ready"
When challenges, troubles, or opportunities enter your life, are you burdened with limiting thoughts of self-doubt, fear, and impossibility? How can you train your mind to biblically conquer uncertainty, beat insecurity, and step past the tragedies of yesterday? Bible Gateway interviewed Kelly Balarie (@kellybalarie) about her book, Battle Ready: Train Your Mind to Conquer Challenges, Defeat Doubt, and Live Victoriously (Baker Books, 2018).

Bible Gateway interviews John Walton and Craig Keener, editors of the "NIV Cultural Backgrounds Study Bible"
Sometimes a little context is needed to discover the rich meaning behind the stories of Scripture. Reading the Bible could be compared to traveling in a foreign country. Having a faithful guide who reveals the surrounding culture offers a more complete understanding. Bible Gateway interviewed John Walton and Craig Keener, editors of the NIV Cultural Backgrounds Study Bible (Zondervan, 2016)—winner of the American Book Fest's International Book Award and ECPA's 2017 Christian Book Award® for Bible of the Year.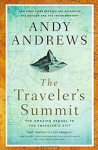 Andy Andrews on Jesus Calling podcast: Trusting God's Timing Through Every Season 
New York Times bestselling author, speaker, and consultant for the world's most successful teams and fastest growing organizations, Andy Andrews recently joined the Jesus Calling podcast. Andy encourages listeners to use their imaginations and to trust God's timing to help them move toward the life God has planned for them. Andy also discusses his New York Times bestselling book, The Traveler's Gift, and its newly released sequel, The Traveler's Summit, available now.
More at facebook.com/JesusCalling.
Other News