March 18, 2019 Edition
Industry News

The Parable Group hires Senior Marketing Strategist
The Parable Group is pleased to announce that Rachel Mars, formerly Marketing Manager for Zondervan Bibles at HarperCollins Christian Publishing, has joined The Parable Group as a Senior Marketing Strategist. Rachel will work remotely and report to Franklin Goldberg, who joined The Parable Group in December as Chief Marketing Officer.
---
Greg Squires, President and CEO of The Parable Group, will present at the upcoming ECPA Leadership Summit on "Consumer Engagement in Christian Retail." His session will be followed by a panel to discuss retail strategies moderated by Jeff Crosby, publisher of InterVarsity Press.  More at ECPALeadership.org.

NPD's Kristen McLean to present latest trends in Consumer Engagement at Leadership Summit
Kristen McLean, a crowd favorite at ECPA events, will return to ECPA Leadership Summit with the latest data behind retail and consumer engagement trends in her session, "The New Face of Consumer Engagement:  Opportunities in the Marketplace."  Kristen is the Executive Director of Business Development at NPD Book and has presented at Leadership Summit, C-Suite Symposium, and ECPA PubU.  Kristen will make her data-rich slides available for download to all Leadership Summit attendees.
"Kristen has the unique ability to interpret the latest NPD consumer and retail data into actionable opportunities for our industry," states ECPA CEO & President Stan Jantz.  "Having NPD's participation at our events keeps our industry informed of the current consumer landscape."  Kristen's colleague, Michial Miller, will participate on the Audio book panel later that morning.
The Leadership Summit will be held in Chicago, April 30-May 1.
Register at ECPALeadership.org.

Deadline set for Sales Awards celebrated at ECPA Awards event
ECPA publishers are encouraged to review their list of titles—including Bibles—that exceed 500,000, 1 million and 10 million in sales for the Gold, Platinum and Diamond awards. The year's sales milestones will be celebrated at the ECPA Awards Celebration with Gary Chapman on April 30 in Chicago for nominations received before April 8.  The ECPA Recognition committee recently updated the rules for sales that allows for inclusion of updated versions as long as 25% or less content has been changed.

Two weeks left for fiction submissions to The Christy Award™ program
The submission period for The Christy Award™ for Christian Fiction will close on March 31.  Nominations are accepted in nine fiction categories for books published traditionally or independently from March 2018 to March 2019.  The categories are: General; Contemporary Romance; Historical Romance; Historical; Mystery/ Suspense/ Thriller; Visionary; First Novel; Young Adult; and Short Format.
For more information about the program and its events, past winners and submissions, visit ChristyAwards.com.
Milestones

InterVarsity Press (IVP) is pleased to announce that three IVP titles have been recognized as finalists in the twenty-first annual Foreword INDIES Book of the Year Awards.
Read More...
Media Announcements

Whitney Capps talks about her new book "Sick of Me" on Life Today
Speaker and author Whitney Capps was a featured guest on Life Today TV on March 7. Co-hosts James and Betty Robison interviewed Capps about her recently-released first book Sick of Me: From Transparency to Transformation and the subtle shift in her thinking that drastically changed her life.

Bible Gateway interviews Karen Sawrey, editor of "The Infographic Bible"
For centuries, visual imagery has been used to communicate the textual stories and teachings of the Bible. Hand-painted illumination, illustrations, fine art have all helped make Scripture more quickly accessible to the common person. In today's world, infographics are one more way to share that message. Bible Gateway interviewed Karen Sawrey (@karensawrey) about "The Infographic Bible: Visualising the Drama of God's Word" (Zondervan, 2018).
Product News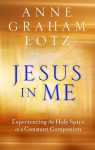 Anne Graham Lotz, bestselling author, international speaker, and daughter of evangelist Billy Graham, is releasing her new book, "Jesus in Me: Experiencing the Holy Spirit as a Constant Companion," on Oct 1, 2019, from Multnomah, an imprint of Random House.
Read More...
Other News