Returning to Lipscomb University in Nashville this November, ECPA PubU will feature tracks in Editorial, Marketing, Design, Production & Operations, and a Children's Book Summit.

TEMPE, ARIZ., JUNE 6, 2022 – ECPA's annual Fall training program – ECPA PubU – will return as an in-person event in 2022 after being presented online for the past two years.  PubU will be held on November 16-17 at Lipscomb University in Nashville, where the event had been held for three consecutive years before going online.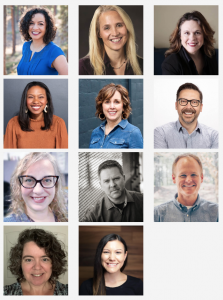 Developing the program will be a group of industry leaders – called the ECPA PubU Brain Trust, led by Jamie Lapeyrolerie, editor at WaterBrook & Multnomah.  The committee is charged with recruiting speakers to present on relevant topics in each of these tracks:  EDITORIAL, MARKETING, DESIGN, PRODUCTION & OPS.  In addition, the second annual CHILDREN'S BOOK SUMMIT will be presented on November 17.
"PubU is unique among all of the gatherings and events that ECPA hosts annually," Jeff Crosby, ECPA president and CEO, said. "It's an event developed by the industry for the industry, drawing on the unique perspectives, skill sets, and experience of a range of outstanding leaders and practitioners. I'm grateful to Jamie Lapeyrolerie for her leadership of this year's 'Brain Trust' that even now is forming content around the major disciplines of our industry."
Serving on the 2022 PubU Online Brain Trust are:
BRAIN TRUST LEAD AND DEI CONSULTANT:
Jamie Lapeyrolerie, Editor, WaterBrook & Multnomah
EDITORIAL TRACK:
Trillia Newbell, Acquisitions Director, Moody Publishers
Susan McPherson, Acquistions Editor, David C Cook
MARKETING TRACK:
Bob Gaudet, VP Marketing, Bibles, Zondervan
Katherine Chappell, Marketing Manager, Kregel Publications
OPERATIONS & PRODUCTION TRACK:
Bradley Isbell, Chief Operating Officer, Iron Stream Media
Jenn Butenschoen, Director of Production and Digital Content, Harvest House Publishers
DESIGN TRACK:
Torrey Sharp, Owner and Principal, Faceout Studio
CHILDREN'S BOOK SUMMIT:
Linda Howard, Associate Publisher for Children and Youth, Tyndale House Publishers
Shannon Marchese, VP and Publisher of Tommy Nelson, the children's imprint for Thomas Nelson
EMERGING LEADERS CONSULTANT:
Paloma Lee, Assistant Producer and Project Specialist, InterVarsity Press
"I'm incredibly honored and grateful to lead this year's Brain Trust and am so excited to not only connect in person with publishing professionals, but for attendees to learn from such creative and experienced people," states Jamie Lapeyrolerie.  "I've personally benefited from ECPA PubU as an attendee and I know it's going to be a great event with practical takeaways, inspiration, and connection."
ECPA PubU will continue its Emerging Leader mentorship program, offering scholarships to up-and-coming industry leaders, with an emphasis on under-represented voices in the industry.  Each emerging leader will be matched with an industry mentor, for a year-long mentorship relationship.
For more information about the program, our schedule, the Brain Trust, or to receive program updates when registration opens, visit ECPAPubU.org.
The Evangelical Christian Publishers Association (ECPA) is an international non-profit trade organization comprised of member companies that are involved in the publishing and distribution of Christian content worldwide. Since 1974, ECPA has strengthened Christian publishing by building networking, information, and advocacy opportunities within the industry and throughout multiple channels so that our members can more effectively produce and deliver transformational Christian content. For more information about ECPA: info@ecpa.org ECPA.org @ECPA
ECPA PubU has delivered training, connection, networking and inspiration to the industry's frontline practitioners since 2004.  Industry leaders develop the program to invest in the expertise of their colleagues, and train up the next generation of leaders.  For more information, visit ECPAPubU.org.
Media contact:  Jeff Crosby, ECPA president/CEO, jcrosby@ecpa.org, 480-966-3998