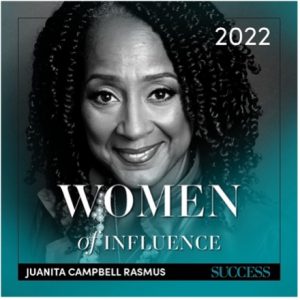 June  2022 | WESTMONT, IL— IVP author Juanita Rasmus has been named one of SUCCESS magazine's Women of Influence 2022. This inaugural list honors Juanita as a woman who is positively pioneering change, impacting her community, and shaping the personal and professional lives of others. A total of 50 accomplished women across a number of different industries received this honor after a panel of judges reviewed nominations from over 120 different candidates.
In winning this award Juanita is in the company of the likes of poet laureate Joy Harjo, award-winning TV writer Shonda Rhimes, tennis stars Venus and Serena Williams, space traveler Wally Funk, and several other CEOs, cofounders, vice presidents, speakers, and authors.
"I am both awed and humbled by this honor. Who could ever have guessed that a magazine I grew up with, under editor W. Clement Stone, would years later acknowledge my work in our world? It really is surreal. I have always believed that each of us has incarnated here to be of service to the other. I have believed that success was the result of finding a need and filling it," said Juanita Rasmus
"SUCCESS launched the Women of Influence awards to spotlight the extraordinary females who are shaping our world today. We believe in the saying, 'What you focus on increases,' so we chose to be the channel that empowers our readers to have a positive impact through the inspirational stories of others who are doing the same," said Cecilia Meis, Editor-in- Chief of SUCCESS magazine.
Juanita is one of only four women in the country leading a large membership congregation as a senior pastor at St. John's United Methodist Church in downtown Houston, a church that started with nine members in 1992 and now serves thousands as one of the most culturally diverse congregations in the country. She is also a transformational coach and speaker, and the author of Learning to Be and Forty Days on Being a One. Her life's work is in providing essential resources for every person seeking to navigate life in contemporary culture: whether that's a diagnosis, disaster, divorce, disease, life disruption, or the great "resignation." Juanita travels, speaking on spirituality and the transformational lessons she's learned.
Cindy Bunch, IVP Vice President, Editorial, celebrates Juanita's work in saying, "IVP has been delighted to publish Juanita Rasmus. Her book Learning to Be explores the dark side of life for a high-achieving woman. That is, what happens when all that good work you are doing leads to burnout? In her book Juanita explores her own journey into a more balanced way of living and shares the spiritual practices that she learned along the way. Juanita is the kind of spiritual mentor that the world is longing for. I am so pleased that SUCCESS magazine has taken notice of her important work."
Juanita's influence extends beyond her writing and teaching through a variety of leadership positions held at both the local and national level. She founded the nonprofit Bread of Life, Inc., helping to eradicate food insecurity, improve health outcomes, and provide resources to the greater Houston community. She cofounded Temenos CDC, which has developed an excess of sixty million dollars of supportive housing in downtown Houston.
She has served on the board of directors and ministry team of Renovaré, founded by author Richard Foster. She has served on the boards of her alma mater Houston Graduate School of Theology and Rice University's Religion and Public Life Program. Juanita is also a senior fellow of the American Leadership Forum, Class XXIII, and serves as faculty and adviser for the Jung Center's Mind, Body, Spirit Institute. Juanita is a recent recipient of the Rothko Chapel's Illumination award, and has been named a Social Book "Houston Treasure." In February of 2022 she was honored to be named one of Houston's 50 Most Influential Women of 2020–2021.
For a full list of SUCCESS magazine's Women of Influence 2022, visit https://woi.success.com. For more information about Juanita's upcoming speaking engagements, visit her website at www.juanitarasmus.com.
Contact: Tara Burns | 630.734.4059 |tburns@ivpress.com