I'm Going to Have a Good Day! book from viral video stars Scarlett Gray and Tiania Haneline releases January 24, 2023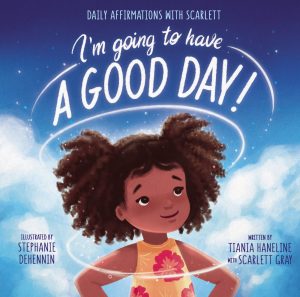 Grand Rapids, MI – July 21, 2022 – Zonderkidz is pleased to announce that TikTok and YouTube sensations Scarlett Gray and Tiania Haneline will publish their first book together, titled I'm Going to Have a Good Day!, illustrated by Stephanie Dehennin, on January 24, 2023.
This uplifting book for kids ages 4-8 will teach kids that by reciting daily affirmations, they will be able to replace negative thoughts with positive ones, similar to how 5-year-old Scarlett and her mom Tiania have inspired millions around the world. The mother-daughter duo have been recording their affirmation routine while Tiana does Scarlett's hair since 2020, garnering millions of fans on TikTok (5.8 million followers, with 247 million likes) and other media platforms.
"When our team first learned of Tiania and Scarlett through their videos on social media, we were so charmed by them both and drawn to their practice of daily affirmations," says Megan Dobson, Vice President and Publisher of Zonderkidz. "It's been a privilege to partner with them to create I'm Going to Have a Good Day!, and share a story that highlights the powerful impact daily affirmations can have on children, building their self-esteem and reminding them how truly special and loved they are. We hope so many families are inspired by this book to begin their own practice of daily affirmations with their children."
The book is now available for pre-order anywhere books are sold. Scarlett and Tiania shared news about the book on their social platforms. Tour dates and appearances with Scarlett and Tiania will be announced this fall. A full-scale marketing, digital and publicity campaign for the book is in process.
Advance review copies will be available upon request; please contact Publicity Director Jessica Westra at jessica.westra@harpercollins.com.
ABOUT THE BOOK: 
I'm Going to Have a Good Day! Written by Tiania Haneline with Scarlett Gray Hardcover w/Jacket, $18.99 978-0310771296 40 pages On sale January 24, 2023 Media Contact: Jessica Westra Director of Publicity, Zonderkidz Jessica. Westra@harpercollins.com
ABOUT THE AUTHORS:
Tiania Haneline and Scarlett Gray Smith make up one of TikTok's most positive (and self-lovecentric) mother/daughter duos. The East Coast-based pair is well-known for their sweet affirmation videos, with their most viral moments attracting the attention of Good Morning America, POPSUGAR, USA Today and more. Growing up in an affirming household herself, Tiania was determined to pass the same values onto Scarlett and her two sons, Walker and Reice. She began repeating affirmations with Scarlett while doing her hair every morning, teaching her to embrace the beauty of her skin, curls, kindness and every trait in between. With the power of TikTok, Tiania and Scarlett are spreading that joy and self-love to an audience of more than four million.
TikTok: Scarlett and Tiania (@scarlettandtiania) Official TikTok | Watch Scarlett and Tiania's Newest TikTok Videos
YouTube: https://www.youtube.com/c/ScarlettGraySmith
Instagram: Tiania and Scarlett (@scarlettandtiania) • Instagram photos and videos Website: www.scarlettandtiania.com
Zonderkidz™, the children's division of Zondervan, inspires young lives through imaginative, innovative and educational resources that represent a Christian worldview and build up God's children and teens. For additional information, please visit www.zonderkidz.com. Zondervan is a world-leading Bible publisher and provider of Christian communications.
Zondervan, as part of HarperCollins Christian Publishing, Inc., delivers transformational Christian experiences through its bestselling Bibles, books, curriculum, academic resources and digital products. The Company's products are sold worldwide and translated into nearly 200 languages. Zondervan's offices are located in Grand Rapids, Michigan. For additional information, please visit www.zondervan.com.