PubU will feature 30+ sessions in tracks for Editorial, Marketing, Design, Production & Operations, and a Children's Book Summit
Early Bird Rate for All Access Pass is Available Until September 30; Scholarships available for Emerging Leaders


TEMPE, ARIZ., AUGUST 8, 2022 – ECPA's annual Publishing University, PubU, will return to Lipscomb University in Nashville on November 16-17, after two years of offering the program online.
The event delivers targeted training and connection in the following tracks, developed and curated by industry leaders who make up the PubU Brain Trust:
DESIGN – EDITORIAL – MARKETING – PRODUCTION & OPERATIONS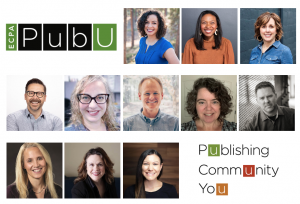 In addition, attendees can opt to attend the second annual CHILDREN'S BOOK SUMMIT — or the ART OF WRITING CONFERENCE hosted by The Christy Award® program — both held the afternoon of November 17 after the PubU track sessions have concluded.
Registrants can customize their schedule and training based on their publishing role.  The schedule, and many of the sessions and speakers are already posted on the event site, in the SESSIONS menu.
"PubU is unique among all of the gatherings and events that ECPA hosts annually," Jeff Crosby, ECPA president and CEO, said. "It's an event developed by the industry for the industry, drawing on the unique perspectives, skill sets, and experience of a range of outstanding leaders and practitioners."
ECPA PubU will continue its Emerging Leader mentorship program, offering scholarships to up-and-coming industry leaders, with an emphasis on under-represented voices in the industry.  Each emerging leader will be matched with an industry mentor, for a year-long mentorship relationship.  The program includes two special sessions for this group, scheduled the morning before PubU opens. Publishers are encouraged to nominate a colleague or candidates can nominate themselves before the deadline of September 30.
EARLY BIRD REGISTRATION IS OPEN FOR ECPA MEMBERS UNTIL SEPTEMBER 30.
Registration, event schedule, and a list of many of the sessions and speakers already confirmed,
are posted at ECPAPubU.org.
ECPA (Evangelical Christian Publishers Association) is an international non-profit trade organization comprised of member companies that are involved in the publishing and distribution of Christian content worldwide. Since 1974, ECPA has strengthened Christian publishing by building networking, information, and advocacy opportunities within the industry and throughout multiple channels so that our members can more effectively produce and deliver transformational Christian content. For more information about ECPA: info@ecpa.org  ECPA.org  @ECPA
ECPA PubU has delivered training, connection, networking and inspiration to the industry's frontline practitioners since 2004.  Industry leaders develop the program to invest in the expertise of their colleagues, and train up the next generation of leaders.  For more information, visit ECPAPubU.org.
Media contact:  Jeff Crosby, ECPA president and CEO, jcrosby@ecpa.org, 480-966-3998