Restoration Is One of God's Specialties
New Bible study of the books of Ezra and Nehemiah helps readers see God faithfully at work in the messiness of life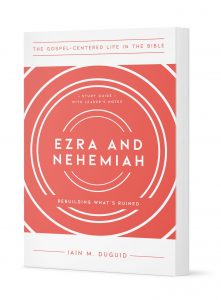 Greensboro, NC—The story of Ezra and Nehemiah plays out against a backdrop of ruins. There's a ruined city, a ruined house of worship, ruined homes—and a ruined life with God. As is often the case in our own lives, the wreckage was largely their own fault. They and their ancestors acted foolishly, unfaithfully, and godlessly. Their path to rebuilding, at its core, was a journey back to God.
In Ezra and Nehemiah: Rebuilding What's Ruined (New Growth Press/August 15, 2022), Iain M. Duguid leads readers in a study that encourages them to return to the God who is always faithful, even when it seems as if everything has fallen apart.
Duguid dives into lamenting sin, facing opposition, worshipping faithfully, and battling discouragement. This study will renew participants' joy in the Lord and encourage them to turn away from their own way and toward God, ultimately discovering Jesus is the one who rebuilds and brings new life where there is ruin and decay.
"The Book of Ezra-Nehemiah shows us the rebuilding of Jerusalem in three phases, each with distinct leaders and conducted in the face of stiff opposition. Each leader accomplishes a significant goal in the restoration of God's people, through God's strength, but even at the end, the people are left short of full redemption from exile, and every accomplishment remains threatened," Duguid explains. "People tend to make heroes out of Ezra and (especially) Nehemiah, who they then want to model themselves on, but they miss the bigger picture of how these books point us to Christ. Only Jesus can provide the perfect leadership necessary to restore the fortunes of the Lord's people and complete their redemption."
Each of the ten lessons in Ezra and Nehemiah: Rebuilding What's Ruined includes rich discussion questions, exercises, and articles to encourage deep examination of the text for one-to-one discipleship, small group, or large group settings. The study will help set realistic expectations for the work of God in a fallen world, distinguishing between the "now" and the "not yet."
"The vital message the book of Ezra-Nehemiah had for its original readers and has for us today is that 'success' is not the measure of a ministry—faithfulness is," shares Duguid. "God remains faithfully at work in and through us in the messiness of life and ministry in this fallen world, and small triumphs should be celebrated even when so much sin and brokenness continue to be evident in our lives and our churches. But our calling is to obey God in our daily callings, regardless of the outcome."
Michael Horton, a professor at Westminster Seminary California writes, "Rebuilding ruins seems like a pretty relevant topic right now. We look at our world, society, family, church, and ourselves and can see both a lot of work God has done and work he hasn't finished yet. More important than all of this, though, is how Iain Duguid points us to Christ, revealing the message of these transitional prophets in the light of God's unfolding plan. Read, mark, and inwardly digest this wonderful study of God's Word."
Ezra and Nehemiah: Rebuilding What's Ruined is part of The Gospel-Centered Life in the Bible series published by New Growth Press in partnership with Serge. Each book in the series examines how the gospel story is revealed throughout both the Old and New Testaments. The other two new releases in the series are Isaiah: Good News for the Wayward and Wandering by Jonathan Gibson and 1 Peter: Life as an Outsider by Robert H. Thune. For a full list of studies and authors, including releases in The Gospel-Centered Life for Students series, visit newgrowthpress.com.
Ezra and Nehemiah: Rebuilding What's Ruined
Study Guide with Leader's Notes
The Gospel-Centered Life in the Bible Series
by Iain M. Duguid
August 15, 2022/ Retail Price: $16.99
Print ISBN 978-1-64507-244-7
Religion/Biblical Studies/Bible Study Guides
Iain Duguid is a professor of Old Testament at Westminster Theological Seminary. He received his PhD at the University of Cambridge in 1992, his MDiv at Westminster Theological Seminary in 1989, and his BSc at the University of Edinburgh in 1981. He also served as a missionary in Liberia, West Africa before attending Westminster and planted churches in Oxford, England, Fallbrook, CA, Grove City and Glenside, PA.  He's the author of Ezekiel and the Leaders of Israel, Esther & Ruth, Daniel, and Song of Songs in the Reformed Expository Commentary, as well as Jonah: Grace for Sinners and Saints, among many other titles. Ezra and Nehemiah: Rebuilding What's Ruined is his second book in the Gospel-Centered Life in the Bible series. His first, Jonah: Grace for Sinners and Saints, was a finalist in the ECPA's 2020 Christian Book Awards. Duguid and his wife, Barbara, have been married for more than thirty years and have six adult children.
Serge is an international missions organization that sees God weaving together the frayed edges of our tattered world with His goodness, creating something beautiful. Their work consists of sending and caring for missionaries, mentoring and discipling ministry leaders around the world, and developing gospel-centered resources—such Sonship and The Gospel-Centered Life—for on-going gospel renewal. Learn more at serge.org.
For review copy and interview information, contact:
Audra Jennings – audra@newgrowthpress.com – 903.874.8363
---
What Others Are Saying:
"This format is just what so many small groups have been looking for to study, discuss, and apply the Bible together. Dr. Duguid's sound insights and questions on the text, combined with an interactive way to go about applying this to real life, make this no-homework-required guide to these important Old Testament books a real winner."
~ Nancy Guthrie, Author; Bible teacher
"When Jesus said that the entire Old Testament was actually about him, he even meant the story and struggles of the returning exiles in Ezra and Nehemiah. You might wonder how that could possibly be true, written as it was hundreds of years beforehand. In this illuminating but also deeply personal study, Iain Duguid will help you see the context of these books and then also place them within a communal study that you'll embark on as you find Jesus even there. I was personally encouraged and edified by this study, and I'm sure you will be, too."
~ Elyse M. Fitzpatrick, Author of Finding the Love of Jesus from Genesis to Revelation
"Broken people, who inhabit a world ruined by past sins and present miseries, need repentance, courage, and hope. These come only from God's grace. That's the story of Judah's returning exiles, and the story of our lives. This engaging, heart-searching guide for small groups points us through Zerubbabel, Jeshua, Ezra, and Nehemiah to Jesus, who alone heals our brokenness."
~ Dennis E. Johnson, Professor Emeritus of Practical Theology, Westminster Seminary California
---
Suggested Interview Questions:
The Gospel-Centered Life in the Bible series examines how the gospel story is revealed throughout both the Old and New Testaments. How does the rebuilding of the temple in Ezra and Nehemiah point to Jesus?
What are some of the themes that run throughout these two Biblical books?
Ezra and Nehemiah were considered one book in Bible times. What gets lost when we don't study them together?
Why do American Evangelicals gravitate to Nehemiah's leadership and ignore Ezra?
Ezra and Nehemiah were two men considered leaders in the rebuilding of the temple and wall, but you say the book is really a story of ordinary men and a community of God's people at work. What can we learn when we look at the collective whole of those involved in the rebuilding?
Even if these two men weren't the heroes of the story, what are some positive characteristics they possessed that are good to model in our own lives?
Many who were involved in the rebuilding were disappointed that the temple didn't measure up to the grandeur it was before. How does this parallel our modern-day discouragement over the progress of God's work in our personal lives and in our churches?
How is our vision of being successful in our calling different from God's version of success?
It's easy to become discouraged when we look around and see how far the world has turned from God. What encouragement can we gain from this study especially when it comes to facing the opposition around us?
You write about how the Israelites celebrated the various feasts of their religious calendar during the process of rebuilding. What can those celebrations remind us about worship today?
How does Nehemiah 13 stand apart from the rest of the entire narrative of the book? What is the takeaway from that chapter?
What are the elements of each lesson, and how is the study designed to be used?
Your Ezra and Nehemiah study is a part of the Gospel-Centered Life in the Bible series. What other studies are available in the series?