New Masterful Suspense From New York Times Bestselling Author Jerry B. Jenkins: Dead Sea Conspiracy Book 2 in the Dead Sea Chronicles Series
"Jerry B. Jenkins is not only my dad (and my hero), but he's also the writer of dozens of books I've devoured. I know you're going to love his latest novel, Dead Sea Conspiracy."
-Dallas Jenkins, Creator/Director, The Chosen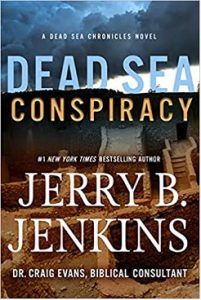 NASHVILLE, TN—Readers looking for a master storyteller will find none better than best-selling author Jerry B. Jenkins. The thrills continue in his new release, Dead Sea Conspiracy, the second novel in his Dead Sea Chronicles.  Readers will be excited to continue the journey of archeologist Nicole Berman, who they met in Dead Sea Rising, when she was preparing for her first dig in Jordan. In Dead Sea Conspiracy, the adventure ramps up, as Nicole is awarded a permit to dig in Saudi Arabia. Being the first woman to do so only increases the pressure, and as the dig continues the stakes are raised as she finds what she believes to be the key to unifying the three major religions.  Jenkins adds another layer, a parallel story where readers are launched back into ancient Ur, and the story of young Abram—who will become the father of nations.  Readers will be eager to figure out what ties together these parallel story lines.
"The challenge, and the joy, of being a novelist is that I get to, in essence, be the characters I invent and write about," Jenkins says. "In the case of Dead Sea Conspiracy, I loved being a late-thirties woman archaeologist with two earned doctorates – about as far from my daily reality as one could get. But in alternating chapters, I also got to be the father of Old Testament patriarch Abraham from four millennia ago – again, except for gender, eons from my own identity. The fact that my character (Terah) had a son whose life literally intersected with Noah's sons allowed me to imagine the boy talking with a man and his wife about their experiences on the ark.  That the contemporary story and the ancient one resonates with each other makes this novel complex and, I hope, compelling for the reader. I had great fun with it and believe the message is timeless. "
Just in time for the perfect late summer read, in Dead Sea Conspiracy fans of Jenkins and new fans alike will come along on the adventure of a lifetime. Readers will also love reading about Abram, and will quickly figure out why the parallel story is so important to the times we live in.  From the Prelude, which covers Dead Sea Rising, to the Postlude, which readers will not want to miss, Jenkins has done it again in Dead Sea Conspiracy, sharing his amazing ability to entertain, educate, and challenge through the power of story.
Jerry B. Jenkins' books have sold more than seventy million copies. Twenty-one of his titles have reached the New York Times, USA Today, Publishers Weekly, and Wall Street Journal bestseller lists. The phenomenally bestselling Left Behind series inspired a movie starring Nicolas Cage. Jenkins has been featured on the cover of Newsweek and his writing has appeared in Time, Reader's Digest, Guideposts, and dozens of other periodicals. He owns the Jerry Jenkins Writers Guild, coaching thousands of aspiring writers in both fiction and nonfiction. Jerry and his wife, Dianna, have three grown sons and live in Colorado. More information can be found at www.JerryJenkins.com.
Dead Sea Conspiracy
Jerry B. Jenkins
Worthy Books
ISBN13:  9781546014225
August 23, 2022, Hardcover
320 pages, $15.99
Media Contact: Jeane Wynn, 918-630-9695, Jeane@wynnwynnmedia.com