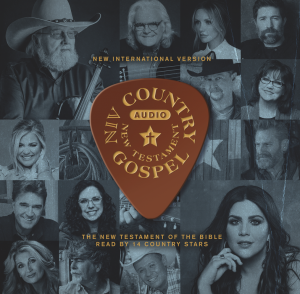 (Grand Rapids, Mich) Aug. 2022 – Zondervan, a division of HarperCollins Christian Publishing, is proud to announce the release of the NIV Country Gospel Audio New Testament. This new audio Bible features fourteen of country music's biggest stars reading the New Testament in today's best-selling modern-English Bible translation – the New International Version (NIV).
"We are thrilled to have partnered with country music artists we grew up listening to as well as some of today's biggest names to bring this one-of-a-kind project to life. They all bring a new voice to this sacred text," said Melinda Bouma, vice president and publisher of Bibles for Zondervan. "Our hope is that it reaches listeners right where they are with the beautiful message of God."
Whether it's nine-time Grammy Award winner Hillary Scott reading Luke, legendary Country Music Hall of Famer Charlie Daniels reading Mark, 14-time Grammy and eight-time CMA and ACM winner Ricky Skaggs reading Hebrews, or New Artist of the Year Lauren Alaina reading James, listeners will find encouragement and faith as they listen to Scripture read by some of their favorite performers. The full lineup includes:
Rory Feek reading Matthew
Charlie Daniels reading Mark
Hillary Scott reading Luke
Cheryl White reading John
Sharon White reading Acts
Randy Owen reading Romans
Carly Pearce reading 1 Corinthians
Tracy Lawrence reading 2 Corinthians
Linda Davis reading Galatians, Ephesians, Philippians, and Colossians
Neal McCoy reading 1 and 2 Thessalonians, 1 and 2 Timothy, Titus, and Philemon
Ricky Skaggs reading Hebrews
Lauren Alaina reading James
Josh Turner reading 1 and 2 Peter, 1,2, and 3 John, and Jude
T. G. Sheppard reading Revelation
Click here for an audio sample.
The NIV Country Gospel Audio New Testament is available now. For more information contact amy.bigler@harpercollins.com.
About Zondervan:
Zondervan, a worldwide leading Christian publisher of books and Bibles, is part of HarperCollins Christian Publishing, Inc. Its publications include a variety of Bible translations for all ages; books in different genres and subject areas for the general reader; curriculum for individual and group Bible study; books for children and young adults; academic resources including textbooks and reference books; ministry resources; and books on faith and culture. Zondervan is located in Grand Rapids, MI. For more information, visit www.zondervan.com.
Contact:  Amy Bigler, Senior Public Relations Manager, amy.bigler@harpercollins.com