Marty Machowki's The Light Before Christmas provides families with a devotional and churches with a curriculum for the holiday season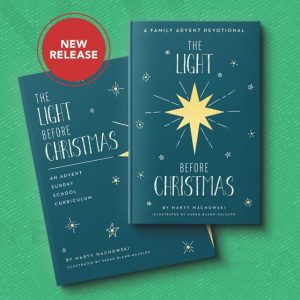 The Light Before Christmas: A Family Advent Devotional (New Growth Press/October 10, 2022) is a new four-week devotional by Marty Machowski, best-selling author of the popular Prepare Him Room Advent devotional and curriculum, and many other family favorites. The Light Before Christmas combines devotions on the theme of light and darkness with the story of eleven-year-old Mia and her grandmother as they prepare for Christmas.
Every year, Mia loves to spend the month of December with Grandma getting ready for Christmas. Grandma loves to share her faith, especially at Christmas time, and although she is blind, she can see the light of Jesus shining bright and helps Mia—and children of all ages—to do the same. This year, they read a special devotional, The Light Before Christmas, together.
Machowski brings families into their devotional time, sharing the story of Christmas. Through a Bible study of light and darkness, readers will discover how the theme of light weaves its way through the Christmas story and God's plan of salvation.
"Light is the most amazing element of God's creation and people have long celebrated its beauty at Christmas time. Christmas lights decorate our windows and doorways, our houses, and trees. Though many have lost the meaning behind the light, they marvel at the twinkle of Christmas lights as they shine forth in the darkness in beautiful arrays of color. Children celebrate when they see a well-lit Christmas decoration and the lights of Christmas on a dark night cheer up the weariest soul," Machowski writes. "Once you know the story of light and its place in the Christmas story, the lights that decorate homes at Christmas will bring a deeper joy to you."
The Light Before Christmas contains thirteen devotionals—three for each of the four weeks of Advent and one more for Christmas. Each devotional includes a Scripture for the day, an object lesson, a question to discuss as a family, a song to sing together, and a prayer.
For churches looking for a fresh take on their children's curriculum this year, Machowski has also written The Light Before Christmas: An Advent Sunday School Curriculum. The four-weeks of lessons guide children in learning about the reason we celebrate Christmas. Using the same theme as the family devotional, each lesson points to Christ, the Light of the World who came to save us from the darkness of sin.
"From before the dawn of creation through the eternal light of God's glorious throne, God's light has always shone bright. Long before the twinkle of a star directed the wise men to Jesus, God planned to send his only son to rescue God's children from the darkness of sin and bring them all into the glorious light of his presence," Machowski points out.
This two-level (preschool and elementary) digital curriculum consists of lessons that include Scripture readings, dramas, object lessons, discussion questions, activity pages, crafts, and songs. Lessons include:
Week 1: A Great Light in a Land of Deep Darkness (Isaiah 9:2–7)
Week 2: Jesus the Light of Men (John 1:1–18)
Week 3: Glory to God in the Highest (Luke 2:1-20)
Week 4: A Light to the Gentiles (Luke 2:21–35)
Designed for families to be able to study in church and at home together, the devotional and curriculum can be used independently. Together, the devotional and curriculum will help families see the light of Jesus shining bright not only in the Advent season, but all year long.
Bob Lepine, longtime cohost of FamilyLife Today® and author of Build a Stronger Marriage, writes, "Almost every family I know is looking for fresh help in keeping the focus of Christmas where it belongs—on the birth of Jesus. That's what makes The Light Before Christmas so special. Now parents and churches have a way to team up to recapture the wonder and excitement of the moment when heaven came to earth and Jesus was born."
The Light Before Christmas: A Family Advent Devotional
Print ISBN 978-1-64507-292-8
October 10, 2022 / Retail Price: $16.99
The Light Before Christmas: An Advent Sunday School Curriculum
Digital ISBN 978-1-64507-294-2
October 10, 2022 / Retail Price $59.99
By Marty Machowski, Illustrated by Sarah Bland-Halulko
Religion / Christian Education/ Children & Youth
About the Author:
Marty Machowski is a Family Life Pastor at Covenant Fellowship Church in Glen Mills, Pennsylvania, where he has served on the pastoral staff for thirty years. Machowski leads Promise Kingdom, the gospel-centered children's ministry of Covenant Fellowship. He is also the Executive Editor for Children's Resources at New Growth Press. He is the author of a number of family devotionals, Sunday School curriculums (including the Gospel Story Curriculum), children's books, and parenting titles. His latest releases include The Light Before Christmas, Darkest Night Brightest Day, and Build on Jesus (coauthored with Deepak Reju). Machowski and his wife, Lois, have six children and several grandchildren. They reside in West Chester, Pennsylvania.  Learn more at www.martymachowski.com. He can also be found on Instagram (@martymachowski) and Twitter (@MartyMachowski).
About the Illustrator:
Sarah Bland-Halulko lives in Pennsylvania with her husband and identical twin daughters. Sarah's imaginative style was crafted by her mentors and life experiences. Her favorite forms of artistic expression include pen and ink drawing, watercolor, and photography. Sarah is the illustrator for the Prepare Him Room advent devotional and curriculum, as well as The Light Before Christmas advent devotional and curriculum.