Carol Stream, Ill. (November 1, 2022) Focus on the Family, in alliance with Tyndale House Publishers, will release five new Focus on the Family products for children and teens in spring 2023. In line with Focus on the Family's corporate mission, the new products—Otter B Forgiving, Leapin' Leopards, Buckle Up!, Edge of the Galaxy, and Land of the Lost—invite children and teens on incredible adventures while teaching valuable, faith-filled lessons.
---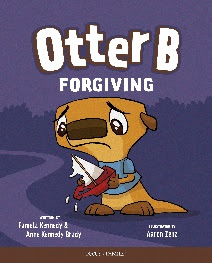 Otter B Forgiving
Otter B #11
Otter B Forgiving is the eleventh in a series of children's books that teach young children basic biblical values. In this story, Otter B's friend Roscoe accidentally wrecks Otter B's new birthday present. Roscoe says he's sorry, but Otter B is too upset to forgive his friend.
The next day, Otter B is riding bikes with his other friends and accidentally knocks Tabitha off her bike. When Otter B apologizes, Tabitha forgives him right away. Otter B is so relieved that he runs right over to Roscoe's house. Not only does he forgive Roscoe for damaging his boat, he also asks Roscoe to forgive him for being so upset. When Otter B says his prayers that night, he asks God to bless all of his friends, especially Roscoe. Then he sleeps soundly, thankful that he's been forgiven too.
Each book in the series ends with a rhyme that reinforces the lesson and includes an appropriate Bible verse.
"When a friend does something wrong and you're mad as mad can be, saying 'I forgive you' helps.
It's how you Otter Be!" (Ephesians 4:32)
---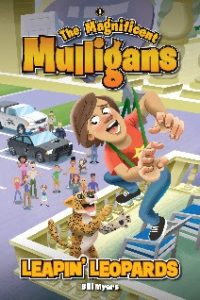 Leapin' Leopards
Magnificent Mulligans #1
A massive mess, a leopard on the loose, and the arrival of new life—it's just another day in the life of the Mulligans. From bestselling author Bill Myers comes a hilarious, warmhearted, and action-packed adventure starring the Mulligan family.
Neither Michael nor Traci Mulligan had intended upon a large family, let alone one of such diversity. But God had other plans. After their second child, Lisa, was born blind, they began to see their gift for reaching out, connecting, and laughing with special children with special needs—all while raising their family among the many creatures living at the animal park that they operate.
Are there trials? You bet. There's no way to keep the boat from rocking with so many children from such diverse backgrounds and in such an incredible environment. But their faith in Christ, commitment to one another, and ability to laugh at themselves keep them digging in to make it work.
---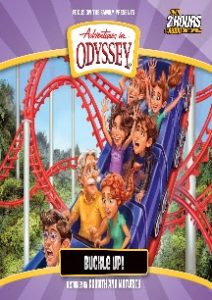 Buckle Up!
Adventures in Odyssey #74
Adventures in Odyssey audio dramas release the imaginations of both young and old as listeners follow a host of characters through adventures in the town of Odyssey. Geared toward kids ages 8 and up, these high-quality audio dramas teach biblical truths and moral foundations for children to make decisions from throughout their lives.
Lower the lap bar and buckle your seat belt. There's a wild ride ahead for everyone in Odyssey!
Renee and Horus have a scientific breakthrough of monumental proportions. But there's a catch: the technology is based on Mr. Whittaker's Imagination Station, and he didn't give them permission to use it! Will Renee risk her friendship with Whit in the name of science? Meanwhile, Olivia gives her testimony at church, and big questions are raised that she can't answer. Elsewhere in town, friendships are at stake when Buck and Jules hit a rough patch that could endanger theirs, Morrie and Suzu try to find a healthy path toward making new friends, and Wooton faces a courtroom struggle that may pit him against an old friend.
It's a time of next steps—both forward and backward—as the folks in Odyssey face all sorts of twists and turns. Keep your hands and arms inside the car at all times and Buckle Up!
---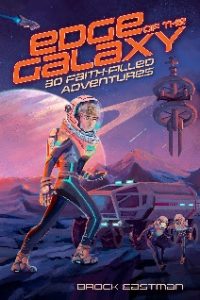 Edge of the Galaxy
30 Faith-Filled Adventures
Edge of the Galaxy combines action-packed science fiction with faith-filled lessons that readers can apply to their own lives. It is a unique science-fiction devotional where you follow the exciting exploits of Gavin and his family through Gavin's star log entries. There are beautiful color illustrations throughout the book that bring this interplanetary adventure to life!
The year is 2095, and 12-year-old Gavin Greystone is on the space station Provider above the Saturn moon of Titan. Gavin and his family work and live as space explorers. Life in space is certainly not easy, or even all that safe, but it's definitely an exciting adventure. From Provider, Gavin's family will work with other families to create a life on the surface of Titan as they expand humankind's footprint and prepare for more settlers. Through many trials, Gavin will learn who he is and the plan God has for him.
---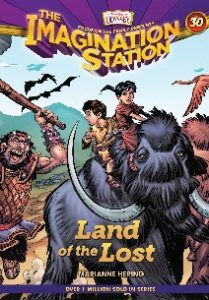 Land of the Lost
Imagination Station #30
Over 1 million have sold in the series! When kids step into the Imagination Station, they travel back in time and across the world with cousins Patrick and Beth. Each book is historically accurate, and readers will grow in their faith and knowledge of big historical events as they race through each unforgettable story.
Lions and tigers and . . . oh my, are those . . . giants? Cousins Patrick and Beth knew their next adventure in Mr. Whittaker's Imagination Station was going to be epic, but this one may be their biggest one yet. They're off to meet one of the most famous families in the Bible—Noah, his wife, and their sons! Can Patrick and Beth help Noah's family round up the different animals before the rain starts falling?
Since its founding in 1962, Tyndale House Publishers has been a voice to trust for generations of readers. Today, Tyndale is one of the largest independent Christian publishers in the world. Tyndale's mission is to make the Bible accessible to as many people as possible in language that they can relate and respond to. Tyndale publishes the Holy Bible, New Living Translation (NLT), and offers nonfiction books that equip readers with Christ-centered insight, counsel, and life-improving stories. In addition, Tyndale publishes fiction from fresh new voices and celebrated authors alike, capturing the imagination of millions of readers. With a deep understanding of the importance of nurturing future generations, Tyndale also publishes children's products that make God's Word and wisdom come alive. Tyndale's independent status allows it to follow its founding model, giving a substantial portion of annual revenue—millions of dollars per year—through corporate donations and the work of Tyndale House Foundation. With every book purchased, Tyndale readers help meet the physical and spiritual needs of people around the world.  Tyndale.com
Focus on the Family, which reaches about 38 million people in 120 countries, is a global faith-based ministry that helps families thrive. Tyndale House Publishers is pleased to partner with Focus on the Family to help provide trusted resources for strengthening believers in their faith and sharing the gospel; building resilient marriages that reflect God's design; equipping parents to raise their children with a thriving faith; advocating for the preborn, orphaned and life at every stage; and engaging the culture through a biblical worldview. Visit Focus at FocusontheFamily.com or on Facebook and Twitter.