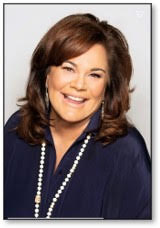 Ada, Mich. (Dec.2, 2022)—Revell, a division of Baker Publishing Group, is pleased to announce it recently signed a three-book deal with sought-after Bible teacher and speaker Lisa Harper.
The first book is scheduled to release in the spring of 2025. Harper is represented by agent Lisa Jackson of Alive Literary Agency.
"It has been an enjoyable honor to get to work with several different publishers over the past twenty-five years," said Harper, author of fourteen books including the recent bestselling devotional, Life—and has written and filmed six well-received Bible study video curriculums, including Job: A Story of Unlikely Joy and How Much More: Discovering God's Extravagant Love in Unexpected Places. "However, compared to the brilliant authors I most enjoy reading, I'm a mediocre writer at best. Therefore, whenever a new publisher comes calling, I can't help wondering why they want to try that exquisite glass slipper on my proverbially clumsy feet, or if I am, in fact, being pranked! But then along comes Revell with the loveliest of intentions, genuine encouragement, and a creative, collaborative vision for a multifaceted literary project that took my breath away. Consequently, I'll be the chick wearing the ear-to-ear perma-grin until my heart stops doing happy cartwheels of gratitude!"
Harper has thirty-plus years of church and parachurch ministry leadership experience, including six years as the director of Focus on the Family's national women's ministry, where she created the popular Renewing the Heart conferences, which were attended by almost 200,000 women, as well as a decade of touring with Women of Faith, where she spoke to more than a million women about the unconditional love of God.
She holds a master of theological studies from Covenant Seminary, recently completed her doctoral studies at Denver Seminary, and is currently working on her thesis. She has been featured on numerous television and radio programs and is a regular on TBN's globally syndicated Better Together show.
"I have been a longtime admirer of Lisa's ministry and have personally benefited from her many years of teaching, speaking, and writing," said Rachel McRae, senior acquisitions editor for Revell Books. "So, it was no surprise that the first name I mentioned was Lisa Harper when I was asked about who I'd like to acquire for Revell after joining the team a few years ago. She has a gift for connecting Scripture to our everyday lives in a brilliant and fun way. Lisa's heart for practical application of the Word that's based on a strong theological foundation connected with Revell immediately."
In early 2022, Harper started a podcast called Back Porch Theology where she dives into God's Word with brilliant theologians and academics to help listeners understand that the gospel is great news for everyday life. The podcast has three million downloads and is growing.
"We are excited to link arms with Lisa and her growing ministry as she brings Scripture to life and draws readers into a more intimate and life-changing relationship with Jesus," said McRae.
Revell Books provides books that inspire and equip readers, offering them hope and help for daily life. Learn more at www.RevellBooks.com.
Contact: Kelli B. Smith, (616) 676-9185 x394, ksmith@bakerpublishinggroup.com