Sparking a Curiosity and Love for God's Word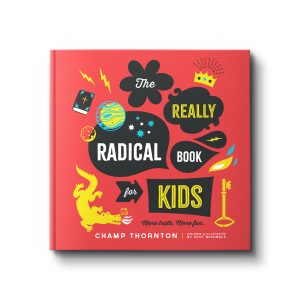 The Really Radical Book for Kids (New Growth Press/March 6, 2023) by Champ Thornton continues the exciting dive into the roots of the Christian faith started in The Radical Book for Kids, winner of ECPA's 2018 Christian Book Award for Young People's Literature. This new edition offers young readers more Bible exploration, more history, and more faith-filled direction for how to live as a believer in the here and now.
The Really Radical Book for Kids is packed with fun, captivating, and age-appropriate content to help kids ages 8–14 grow in curiosity and learn more about how to read the Bible and apply it to daily life. There are more than forty short chapters filled with rich biblical content on a variety of topics to grab the interest of not only young readers, but adults as well and over two hundred pages of full-color illustrations, maps, and engaging graphics designed and illustrated by Scot McDonald. Thornton makes science, history, geography, and even math related to the Bible interesting and infuses a healthy dose of humor along the way. He also tackles topics such as making hard decisions, exploring certain books of the Bible, and even asking hard questions about faith.
"God is not boring! After all, ice cream, sports, friends, and stories are all his idea. So, if we're talking about God—the God who is so incredibly amazing—why should we speak of him in boring ways?" Thornton asks. "That's why I want to make this book fun."
Thornton introduces kids to ancient kings, legendary battles, and fierce snakes and dragons. Kids will discover unusual food to make, secret codes to break, and fun crafts to try. They'll also uncover exciting ways to read God's powerful Word, factual reasons to believe, stunning truths about God, and incredible examples of "radical" men and women who have gone before them and trusted Jesus in challenging times.
"I wanted to do something very specific with this book: I don't want to merely fill minds; I want to spark curiosity. What I really want is not for kids to read my book and set it aside, but having read my book, want to go learn more," says Thornton. "I wrote this book to be a starter kit for the Christian faith. And as such, I hope it makes them think, makes them curious, and makes them excited to keep learning and growing in their faith."
The Really Radical Book for Kids was designed for children and young teens to explore on their own; however, it can be used as a part of part of family devotionals or as a supplemental resource for Sunday school teachers and homeschooling parents.
"It is imperative for parents to catechize their kids in the fundamentals of the Christian faith, but many struggle with the best way to communicate the beauty and truth of Christian doctrine in a way that is accessible," writes bestselling author Daniel Darling. "Champ Thornton offers a creative, innovative resource that communicates timeless truths from church history, apologetics, and theology that will help parents pass down the sacred Scriptures to the next generation. You'll want this book in your home, in your children's ministry, and to liberally distribute among family and friends."
The Really Radical Book for Kids: More Truth, More Fun
By Champ Thornton, Illustrated by Scot McDonald
March 6, 2023 / Retail Price: $29.99
Print ISBN 978-1-64507-081-8
Religion / Christian Education / Children & Youth
Champ Thornton is an acquisitions editor at Crossway and the author of a number of books for kids and families, including The Really Radical Book for Kids, The Radical Book for Kids, Wonders of His Love, The Serpent Slayer and the Scroll of Riddles, Why Do We Say Good Night, and Why Do We Say Thank You?.  Thornton has pastored churches in Delaware and South Carolina and served as director of SOMA, a ministry training school in Columbus, Ohio.  Thornton enjoys hanging out with his family and friends, drinking coffee, listening to music, doing genealogical research, and reading theology, biographies, and fiction. Thornton and his wife, Robben, have three children and live in Newark, Delaware.  Visit www.champthornton.com to learn more. He can also be found on Twitter (@champthornton) and Instagram (@thorntonchamp).
About the Designer/Illustrator:
Scot McDonald is an award-winning graphic designer and illustrator. Illustrated books include Wings and Feet and David's Christmas Wish by Lisa Reinicke. He has designed and illustrated Wise Up, Walking with the Wise, and Listen Up by Marty Machowski; The Radical Book for Kids and Radically Different by Champ Thornton; and the Hearts Alive curriculum. He lives with his wife, Betty (a children's librarian), and a senior cat in Colorado Springs.
For review copy and interview information, contact:  Audra Jennings – audra@newgrowthpress.com