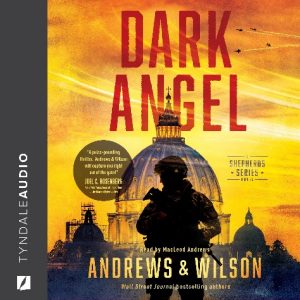 CAROL STREAM, Ill.—March 2, 2023—Tyndale House Publishers is pleased to announce that Dark Angel, the second installment in the Shepherds series by the bestselling writing team of Brian Andrews and Jeffrey Wilson, has been named a finalist for an Audie Award in the faith-based fiction or nonfiction category, by the Audio Publishers Association.
In Dark Angel, former Navy SEAL Jedidiah Johnson returns to Nashville ready to begin his training with the elite warriors known as the Shepherds. He thinks he knows what to expect when he arrives on the sprawling, state-of-the-art facility but quickly realizes he'll have to find his place as the rookie leader of a new team. Then he starts having visions of an imminent attack overseas, and Jed and his team are dispatched to neutralize the threat. All the while, Jed hears whispers of another threat that raises fear and anger throughout the Shepherds organization.
Once a military man, Nicholas Woland betrayed the Shepherds and all they stood for when he joined their enemies. After years in prison, Woland is eager to get back in action spreading chaos and death. And he has been freed for a purpose: a sinister plot that will result in hundreds of casualties and incite worldwide religious warfare for years to come.
As Woland and the Shepherds race toward a collision, Jed must rely on his gifts, his training, and his untested team to make critical decisions on a global stage—never realizing that a secret servant of the enemy is growing closer and closer to him.
In response to this significant achievement, Karen Watson, publisher of Tyndale fiction, shared, "We are honored to be recognized for this award and grateful for the fine performance of MacLeod Andrews in the Shepherds trilogy. He brings just the right unsettling vibe to the voice of the villain who opens this thriller. This is a great addition to the robust and popular catalog of fine audio properties from authors Andrews & Wilson."
According to their website, the Audie Awards is the premier awards program in the United States recognizing distinction in audiobooks and spoken-word entertainment. Publishers and rights holders enter titles in various categories for recognition of achievement. Finalists are selected, and then one winner is awarded in each category. Winners will be announced at the 2023 Audies Gala at Chelsea Piers' Pier Sixty on March 28, 2023, in New York City.
For more information on Tyndale titles, please visit tyndale.com.
Since its founding in 1962, Tyndale House Publishers has been a voice to trust for generations of readers. Today, Tyndale is one of the largest independent Christian publishers in the world. Tyndale's mission is to make the Bible accessible to as many people as possible in language that they can relate and respond to. Tyndale publishes the Holy Bible, New Living Translation (NLT), and offers nonfiction books that equip readers with Christ-centered insight, counsel, and life-improving stories. In addition, Tyndale publishes fiction from fresh new voices and celebrated authors alike, capturing the imagination of millions of readers. With a deep understanding of the importance of nurturing future generations, Tyndale also publishes children's products that make God's Word and wisdom come alive. Tyndale's independent status allows it to follow its founding model, giving a majority of annual revenue—more than $110 million throughout its history—to charitable missions. With every book purchased, Tyndale readers help meet the physical and spiritual needs of people around the world.
Contact: Amanda Woods, amandawoods@tyndale.com, 630.784.5125