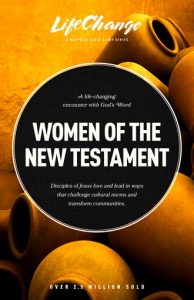 Carol Stream, Ill. (March 6, 2023) — On June 6, 2023, NavPress will release the next installment in the LifeChange series, Women of the New Testament: A Bible Study on How Followers of Jesus Transcended Culture and Transformed Communities by Joyce Koo Dalrymple.
Women of the New Testament depicts women playing an active and courageous role in the days when Jesus and His apostles announced the arrival of the Kingdom of God. Over eight sessions, readers will learn about women who played key roles throughout Scripture, like the Samaritan woman, Martha, and Mary Magdalene.
LifeChange Bible studies are designed to train readers in good Bible study practices while engaging in a robust topical study.
Optimized for small group use, the LifeChange Bible studies aid in developing the skills necessary for studying God's Word and are broken down into eight, 45-minute sessions. Each session includes questions for application and interpretation, as well as personal reflection.  The "For Further Study" section gives readers the opportunity to explore other passages around the topic.
For more information or for media inquiries, please contact Natalie Wierenga, nataliewierenga@tyndale.com.
Women of the New Testament
ISBN: 978-1-64158-662-7
Softcover: $11.99 | June 6, 2023
NavPress.com 
NavPress is the book-publishing arm of The Navigators. With a rich catalog of bestselling books, ministry resources, and The Message® Bibles, NavPress supports readers as they know Christ, make Him known, and help others do the same.  Since 2014 NavPress has been in a publishing alliance with Tyndale House Publishers, one of the largest independently owned Christian publishers in the world. NavPress resources are sold, distributed, and marketed worldwide through Tyndale House Publishers.
Contact: Natalie Wierenga, nataliewierenga@tyndale.com, 630.784.5211