Lyrical picture book is a love letter to the child of your heart
Releases Tuesday, March 14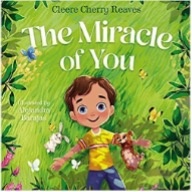 NASHVILLE, Tenn. – For years, Cleere Cherry Reaves has made it her mission to help people recalibrate, refocus, and remember who they are in Christ through her successful gift line brand Cleerely Stated. Now Reaves provides families a message of hope to embrace the everyday miracles and to celebrate life as the greatest miracle of all with her debut picture book, The Miracle of You, releasing March 14, 2023.
When Cleere's son was born three months prematurely, she and her husband watched as their child–their miracle–fought for his life, developed, and began to thrive. Inspired by this difficult journey, Cleere began to recognize that the miracle of her son's life was also what taught her to celebrate the different miracles that surround us every day.
A poetic picture book, The Miracle of You celebrates the unconditional love of a parent and the uniqueness of every child among all the beauty of God's creation. "Nothing can compare to the miracle of your child or the little hearts that you get to love. There truly is no greater miracle than the miracle of you!" said Reaves.
From the creatures that swim deep in the sea to the galaxies that reach far and wide, the world is filled with the color and creativity of God. Yet nothing compares to experiencing His miraculous design like the gift of the child He has given you. In The Miracle of You, Cleere's poetic words speak for every parent and grandparent in awe at the God-given miracle of their little ones.
"My hope is that it will be a perspective shifter for parents, too. That although you have a million and a half things to do, you are reminded that getting to see those bright little eyes across from you is such an undeserved gift," expresses Reaves.
A read-aloud book for boys and girls ages 4 to 8, The Miracle of You:
pairs heartwarming rhymes with whimsical artwork
teaches children that Jesus is the giver of miracles
is a perfect gift for a baby shower, baptism, baby dedication, child's birthday, or Mother's Day
serves as a stunning decorative piece in nurseries and children's bedrooms; and
builds a healthy self-esteem in kids, focusing on who they are, not what they
The Miracle of You (ISBN: 9781400242108) releases on March 14, 2023, everywhere books are sold. Copies of the book and interviews are available upon request.
About Cleere Cherry Reaves
Cleere Cherry Reaves is the owner and creator of Cleerely Stated, a successful online boutique, whose inspirational products can be found in retail stores all over the United States. She is also the host of the growing Let's Be Cleere podcast. Known for her relatable writing style, Cleere's mission is to help others see themselves and the world around them through the eyes of Jesus. Cleere and her husband, Will, live in Greenville, North Carolina, and welcomed their first child, son Sledge, into the world in the summer of 2021.
About Alejandra Barajas
Alejandra Barajas has a degree in fine arts from the University of Guanajuato and found her true passion in children's book illustration. She loves all kinds of stories and believes that each one has the power to teach something new and valuable. Alejandra is almost always drawing—even in her free time—but when she's not, she can be found spending time with her family and dogs.
About Tommy Nelson
Tommy Nelson® is the children's division of Thomas Nelson. As a leading provider of Christian content, Tommy Nelson publishes a wide variety of high-quality, enjoyable products that are consistent with the teachings found in the Bible. Tommy Nelson's award-winning products are designed to expand children's imaginations and nurture their faith while inspiring them to develop a personal relationship with Jesus. For more information, visit www.tommynelson.com/.
Media Contact:  Jeane Burgess, 918-630-9695, jeane@wynnwynnmedia.com