Award-Winning Children's Book Teaches That Jesus Searches for All of God's Children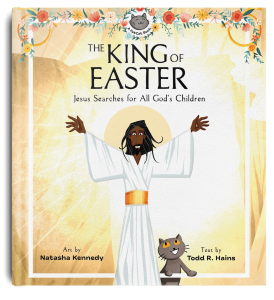 BELLINGHAM, Wash., March 13, 2023 — FatCat, the friendly feline who helps young readers grasp the messages of the Bible, is back with another pawsitively engaging message in "The King of Easter: Jesus Searches for All God's Children," available now from Lexham Press.
In "The King of Easter," FatCat follows Jesus' journey from His birth to the cross, His resurrection and beyond. With art by Natasha Kennedy and text by Todd R. Hains, children and their parents will have fun finding the bright-eyed, gray kitty pouncing from page to page as they learn that Jesus searches for all God's children.
Along His journey to the cross, Jesus finds and saves people—from his mother, Mary, at his birth, to the thief on the cross beside him. But, the Easter story doesn't end there, for Jesus is risen! From Mary Magdalene, who searched for him at the empty tomb, to Saul, who killed Jesus' friends, Jesus continues to save.
Many of the people Jesus encounters don't seem very lost. Others seem too lost. Some are searching for Jesus, while others aren't looking for Him at all. Whether friends or enemies—if they are lost, Jesus came to seek and save them. At every step, He brings His new friends to join the search.
"Join FatCat and follow Jesus as He seeks and saves the lost in this wonderful Easter story," said Hains. "Featuring sample prayers and other useful resources for parents, 'The King of Easter' reminds us of Jesus's power and will to save all of God's children."
Lexham's popular FatCat series emphasizes the church's catechism—the Apostles' Creed, the Lord's Prayer and the Ten Commandments, which unite Christians across traditions and generations. To keep the catechism approachable and fun, the series features a striped, gray feline, FatCat ("cat" being short for "catechism") who can be found throughout the book's pages, learning along with the readers. Each book includes a family devotional and suggested scriptures for further reading.
The FatCat series is proud to be the 2022 Northern Lights Book Award Winner for "Best Series." For more information about the newest release, "The King of Easter: Jesus Searches for All God's Children," visit http://www.lexhampress.com/FatCat.
About Lexham Press
Lexham Press seeks to increase biblical literacy, thoughtful Christian reflection, and faithful action around the world by publishing a range of Bible study materials, scholarly works, and pastoral resources. For information, visit lexhampress.com.
About Natasha Kennedy
Natasha Kennedy is a freelance illustrator from Seattle, Washington. She and her husband, Lindsay, have four children and a grey kitty named Tiny.
About Todd R. Hains
Todd R. Hains is associate publisher of acquisitions and development at Lexham Press. He and his wife, Veronica, have two children and two grey cats—Crumpet and Utini.
Media Contact:  Lauren Briggs, 972-267-1111, lauren@alarryross.com