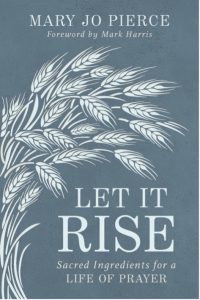 (Dallas-Fort Worth, TX – March 14, 2023) Gateway Publishing is pleased to announce the release of Let It Rise: Sacred Ingredients for a Life of Prayer by Mary Jo Pierce.
God can meet you anywhere, and He met Mary Jo in her kitchen. Using something as seemingly ordinary as baking bread, God patiently taught her a whole new way to worship, pray, and enjoy His presence. He showed her how to stay connected to Him through healthy rhythms of work and rest, and He made her home a joyful house of prayer. And she realized, this isn't just for her to experience—it's for everyone.
Mary Jo delights in discovering the presence of God in everyday life. In this book, she shares poignant personal memories, miraculous stories, and honest reflections about Sabbath, worship, grief, friendship, and more.
"I'm delighted to share how God graciously revealed the sacred ingredients that, when mixed together, helped me develop and nurture an intentional life of prayer," says Mary Jo. "Within these pages are practical and powerful ways to cultivate an environment to meet with God every day."
Since the 2020 pandemic brought many people home, bread-baking has increased in popularity. Readers will be delighted to find two bread recipes included in Let It Rise: "Mary Jo's Honey Challah" and "Let It Rise Babka."
So what does baking bread have to do with prayer? Mary Jo explains, "Baking bread was simply the vehicle God used to enrich every part of my prayer life. Like the yeast that activates flour and causes it to rise and taste all kinds of yummy, God used this simple yet enjoyable engagement with a few ingredients to impact and influence every aspect of my life of prayer."
This book was written during a global crisis—not just a medical crisis but also wars and rumors of wars and a battle for "One Nation Under God." We are experiencing a powerful emerging prayer movement. Mary Jo writes, "The world is trying to cancel many things, including our voices, but the Holy Spirit can't and won't be canceled. Our faith will be strengthened, and we will find ourselves very Joshua-like—praying bold, courageous, and strong prayers." Like the aroma of freshly baked bread, it's time to let our prayers rise for our families, our churches, our communities, and our world!
Grammy-nominated artist and worship pastor Mark Harris (a close friend of Mary Jo's) writes in the foreword of Let It Rise, "As a worship pastor, I can say what's missing in most believers' lives more than anything else is rest. We're caught up in the busyness of life. We're pouring out and not receiving or refilling. We're talking and not listening. But we need to slow down. I know firsthand how unhealthy it is to not pause and honor the Sabbath each week. We can't afford to miss God's presence or rest. Mary Jo is the voice the Church needs right now." He goes on to say, "It doesn't matter whether you love being in the kitchen or not. It doesn't matter if you're male or female, old or young—God is inviting us all to the table to be with Him. No matter what stage of life you're in, I know you will find incredible wisdom to apply to your life within these pages."
Dutch Sheets, founder of Dutch Sheets Ministries and author of Intercessory Prayer, has known Mary Jo for many years. He says, "Some authors and teachers are well-informed, diligent students and, therefore, can dispense good information. Then there are those who have actually fleshed out the teaching, put their theories to the test until they are proven, and are now laced with wisdom. These are the leaders who can say with genuine authority, 'Here's what works.' Mary Jo has mixed the ingredients, kneaded the dough, seasoned it with experience, and baked the bread. You can trust her."
Mary Jo Pierce, author and speaker, resides in Keller, Texas, with her husband of 44 years, Bruce, and their two Maltese puppies, Honor and Glory. She is a lifelong student of prayer and intercession, and she delights in discovering the presence of God in everyday life as she shares her passion for prayer, intercession, and Sabbath. Mary Jo loves using every tool available to inspire and exhort people in their prayer lives, including teaching, mentoring, writing, photography, social media, and especially, baking bread! She served as the pastor of prayer and intercession at Gateway Church in Dallas-Fort Worth, Texas, for more than 17 years. Mary Jo's previous books Adventures in Prayer: A 40-Day Journey and Follow Me: An Unending Conversation with Jesus have inspired and unlocked the pure joy of living prayer and studying the Scriptures for thousands of people around the world. For more teachings on prayer and intercession, as well as stories and recipes from her kitchen, connect with Mary Jo on her website (MaryJoPierce.com) or on social media (maryjo_pierce.)
For more information, to receive a copy of Let It Rise, or to schedule an interview with Mary Jo Pierce, contact:  Peyton Sepeda, publishing@gatewaypeople.com, 855.712.5774, gatewaypublishing.com
Available now at Amazon, GatewayPublishing.com, store.gatewaypeople.com, and all eBook retailers.