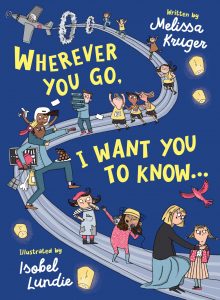 CHARLOTTE, NC– The Good Book Company announces that Wherever You Go, I Want You to Know, written by Melissa Kruger and illustrated by Isobel Lundie, has surpassed 100,000 units in print sales (The Good Book Company, August 2020).
Wherever You Go, I Want You to Know is an illustrated children's book that expresses every Christian parent's dream for their children—that they love Jesus with all of their hearts. Board book and coloring book formats have also been published, and in recognition of the sentimental value of the title, a keepsake edition will be published in April.
James Burstow, TGBC President, reflects, "We're thrilled to be celebrating such a great milestone for this beautiful book and its message that wherever life takes us, loving and being loved by Jesus is always the most important thing. It's been so exciting to see it resonating with people all around the world; and our prayer is that every reader will carry that truth with them, wherever they go and whatever they do!"
For media inquiries and access to promotional assets, contact: publicity@thegoodbook.com.
ABOUT THE AUTHOR
Melissa Kruger is the author of Wherever You Go, I Want You to Know as well as His Grace is Enough and several books for adults. She is the Director of Women's Initiatives at The Gospel Coalition and blogs at Wit's End. Her husband of 25 years, Mike, is the president of Reformed Theological Seminary, and they have three children.
ABOUT THE ILLUSTRATOR
Isobel Lundie is an illustrator and animator specializing in children's books. She loves using artwork to help children lose themselves in a narrative. She is based in Brighton, UK.
ABOUT THE GOOD BOOK COMPANY
Founded in 1991, The Good Book Company (TGBC) is an international Christian publisher. Their Bible studies, books, devotionals, videos, tracts, evangelistic courses, and training materials are used throughout the English-speaking world, and in translation in over 35 languages worldwide. Everyone at TGBC is passionate about the Lord Jesus, His word, His church, and His gospel of grace. They create and publish biblical, relevant, and accessible resources that will encourage Christians to keep going, keep growing, and keep sharing their faith.