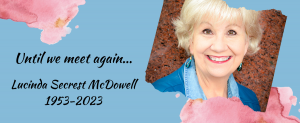 Lucinda Secrest McDowell, longtime Iron Stream Media author, passed away amid friends and family on Saturday, March 25, 2023.
Lucinda Secrest McDowell, MTS, was passionate about embracing life—both through deep soul care as well as living courageously to touch a needy world. A storyteller who engaged both heart and mind, she delighted in helping you choose a life of serenity and strength. A graduate of Gordon-Conwell Theological Seminary and Furman University, McDowell was the author of thirteen books and contributor to more than thirty books. Her award-winning books include Soul Strong (2020) and Life-Giving Choices (2019), She was a member of the Redbud Writers Guild and Advanced Writers and Speakers Association.
Lucinda received the Mount Hermon "Writer of the Year" award and wrote guest blogs for The Write Conversation, Blue Ridge Mountains Writers Blog, and (in)courage. Whether codirecting reNEW—retreat for New England Writing, pouring into young mamas, or leading a restorative day of prayer, she was energized by investing in people of all ages.
Lucinda's favorites included tea parties, good books, laughing friends, ancient prayers, country music, cozy quilts, musical theatre, and especially her family scattered around the world doing amazing things. Known for her ability to convey deep truth in practical and winsome ways, she wrote from her home, affectionately known as Sunnyside Cottage, in New England and blogged weekly at EncouragingWords.net.
"My mission is to glorify God and live in His grace and freedom, and through the power of the Holy Spirit to use my gifts to communicate God's faithfulness, extend His grace, and encourage others to trust Him fully." ~ Lucinda Secrest McDowell