Bible-Smart™: Matthew is NOT Your Grandpappy's Kind of Commentary!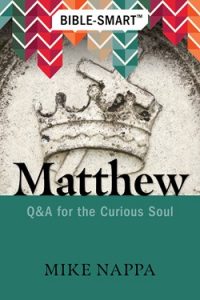 April 10, 2023 — Get ready for a sea change in Bible reference publishing: On April 18, 2023, Rose Publishing (an imprint of Tyndale House), will release the first ever Bible-Smart™ commentary by bestselling and award-winning theologian, Mike Nappa.
"I wanted to create a coffee-shop conversation about the Bible, not a sermon," says Nappa. "I'm really tired of how weird people get when talking about Scripture, and one day I thought, 'Somebody should do something about that.' Some weeks later it dawned on me, 'Maybe I should do something about that.' The result was Bible-Smart: Matthew."
First, Nappa asked a group of Facebook friends to read chapters from the gospel of Matthew and send him any questions that came to mind. Next, he did the same himself, compiling and curating questions into a long list of chapter-by-chapter, passage-by-passage sections. Then came the fun part. Mike Nappa started digging for answers to the questions in this list, writing "coffee-shop theology" segments about them, and creating a new kind of commentary for our generation—Q&A for the Curious Soul.
Along the way he opened the doors to seminary scholarship for everyday pew-sitters. Bible-Smart: Matthew utilizes more than a dozen Bible-exposition styles including:
Archaeological insights,
Bible difficulties,
Cross-reference comparisons,
Cultural commentary,
Factual info,
Geographical backgrounds,
Historical context,
Inductive studies,
Literary influences,
Personality and character studies,
Rhetorical influences,
Symbolic meanings,
Theological commentary, and
Word studies.
Bible-Smart: Matthew also includes a heartfelt "Shoutout to Pastor Chuck,"—a thank-you to Nappa's former pastor and ministry mentor, Dr. Charles R. Swindoll.
But be warned: "Bible-Smart: Matthew ain't your grandpappy's stuffy, old commentary book," Nappa says. "This is a 21st-Century spiritual-growth experience created just for you and me—a relaxed conversation for everyday pew-sitters who just want to discover more of Jesus as revealed in God's Word. No seminary degree necessary."
Upon release on April 18, Bible-Smart™: Matthew will be available wherever books are sold. Advance copies are currently available to members of the media, and Mike Nappa is available for interviews upon request.
ABOUT MIKE NAPPA:  Mike Nappa is a practical theologian known for writing and "coffee-shop theology" and Christian Living books. He's a bestselling and award-winning author with millions of copies of his works sold worldwide. An Arab-American, Mike is proud to be a person of color (BIPOC) active in Christian publishing. Visit the Bible-Smart blog at Bible-Smart.com.
ABOUT ROSE PUBLISHING:  Rose Publishing (an imprint of Tyndale House) specializes in Bible reference for everyone. Our resources help believers to love God by deepening their understanding of who God is. Packed with charts, time lines, and simple summaries, Rose Publishing products are designed to make the Bible and its teachings easy to understand. Visit Rose Publishing online at hendricksonrose.com.
FOR MORE, PLEASE CONTACT:
---
ADVANCE PRAISE for Bible-Smart: Matthew
"Truth: Mike is an excellent and engaging writer who knows the Bible and knows how to tell its story. The guy is gifted, and Bible-Smart: Matthew is a shred of the evidence."—Stephen M. Miller (bestselling and award-winning author of The Complete Guide to the Bible and Casual English Bible)
"Some Bible commentaries are meant to be read. This one invites you into a conversation. Mike Nappa offers bite-sized answers that are clear, thoughtful, and engaging." —Dr. John A. Beck (bestselling author of The Holy Land for Christian Travelers and The Baker Illustrated Guide to Everyday Life in Bible Times)
"Bible-Smart: Matthew is both wonderfully accessible and beautifully deep."—Dr. Mary L. Vanden Berg (Professor of Systematic Theology at Calvin Theological Seminary)
"Finally! A book that helps the non-academic dig deep, wrestle with questions, and grow closer to God when reading the Bible."—Marlo Schalesky (award-winning author of Beyond the Night and Women of the Bible Speak Out)
"Mike Nappa's idea of "just hanging out, looking at Scripture together" is a worthy one, and well accomplished. Mike has done a great service to those of us who want to better know the Bible and the loving God behind it."—Paul Kent (bestselling author of Know Your Bible (over 3 million copies sold))