Philosophy Professor Phillip Cary Affirms Ancient Text's Relevance for Today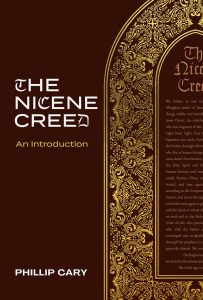 BELLINGHAM, Wash., April 10, 2023 — To help believers articulate their faith in God the Father, Son and Holy Spirit, seasoned author, philosopher and professor Phillip Cary has released "The Nicene Creed: An Introduction," available now from Lexham Press.
For centuries, the Nicene Creed has been central to the Christian Church's confession. Far from being abstract or irrelevant, the words of the Creed carefully express what God has done in Christ and through the Spirit and gives biblical Christians words for what they believe.
"The Nicene Creed is a summary of the Gospel of Jesus Christ," said Cary. "It brings me great joy, and I wanted to make that joy accessible to those who may be unfamiliar with it."
One of the most famous and influential professions of faith in the history of the church, the biblically inspired Creed encapsulates the entire good news of the gospel and ultimately settles the question of how Christians can worship one God who is three persons. In "The Nicene Creed: An Introduction," Cary explores the Creed's riches with simplicity and clarity, explaining its history and meaning line by line.
Offering precise and profound insight, Cary invites readers to gain a fresh appreciation for how the Nicene Creed came to be and why it is still relevant today. As an astute student of the Bible, he successfully brings meaning back to the Creed for those from more liturgical traditions for whom it has become rote, while also introducing it to those from more evangelical, contemporary churches who may not be as familiar with it.
Cary asserts that when we profess the Creed, we join the global Church throughout history in declaring the name and work of the one God — Father, Son and Spirit.
Adds Cary, "This is a book for those who want to understand their faith better, and thus to grow in the knowledge of God, by learning what the ancient teachers of the Nicene faith had to give us."
Praised as an essential addition to the libraries of Christians, "The Nicene Creed: An Introduction" is available now from Lexham Press. For more information, visit https://lexhampress.com/product/224267/the-nicene-creed-an-introduction.
About Lexham Press:  Lexham Press seeks to increase biblical literacy, thoughtful Christian reflection, and faithful action around the world by publishing a range of Bible study materials, scholarly works, and pastoral resources. For information, visit lexhampress.com.
About Phillip Cary: Phillip Cary is professor of philosophy at Eastern University in Philadelphia and author of several books, including "Good News for Anxious Christians" and "The Meaning of Protestant Theology."
Media Contact: Lauren Briggs, 972-267-1111, lauren@alarryross.com