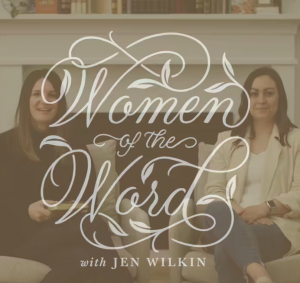 April 5, 2023, WHEATON, Ill.—In 2014, Crossway published Women of the Word: How to Study the Bible with Both Our Hearts and Our Minds by Jen Wilkin, which offers practical guidance and helpful tips for women who want to go deeper in their study of the Bible and learn how to teach others to do the same. Since its release, the book has sold over 500,000 copies and helped women around the world to study the Bible for themselves.
To further equip women with Bible literacy tools and skills, Crossway is pleased to announce the release of a new podcast featuring Wilkin called Women of the Word: How to Study the Bible with Jen Wilkin.
Over the course of 10 weeks, Wilkin will talk through various Bible study topics including:
the importance of Bible literacy;
overcoming common barriers to Bible study;
tips for teaching the Bible; and
the Bible study process (comprehension, interpretation, and application).
Hosted by Crossway's Director of Publicity, Lauren Susanto, the Women of the Word podcast is conversational in nature and ideal for women of all ages looking to go deeper in their study of God's word.
Episodes will be released weekly starting April 5. Audio episodes will be streamed on all major podcast platforms and video episodes can be found on YouTube. To subscribe and find more information, please visit Crossway.org/womenoftheword.
Jen Wilkin is a Bible teacher from Dallas, Texas. As an advocate for biblical literacy, she has organized and led studies for women in home, church, and parachurch contexts and authored multiple books, including the best seller Women of the Word. You can find her at JenWilkin.net.
Founded in 1938, Crossway is a not-for-profit global Christian publishing ministry that publishes gospel-centered, Bible-based content to honor our Savior and serve his church. Crossway seeks to help people understand the all-encompassing implications of the gospel and the truth of God's word—for all of life, for all eternity, and for the glory of God alone. Crossway is the global publisher of the ESV® (English Standard Version®) Bible, more than 1,000 Christian books, and an extensive list of gospel literature. For additional information, visit crossway.org.
Contact: Lauren Susanto, lsusanto@crossway.org, crossway.org