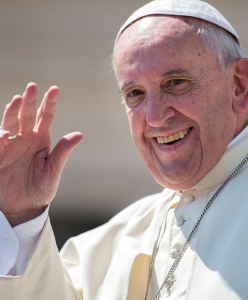 NASHVILLE, TN-March 13, 2023 marked the 10th anniversary of Pope Francis's election. Worthy Publishing US, in a joint deal with Hodder & Stoughton UK announce the acquisition of the next two official books by the Pontiff, entitled Buona Vita ('Have A Great Life') and Ti Voglio Felice ('I Want You To Be Happy'). This follows the publication of A GIFT OF JOY AND HOPE by Hodder & Stoughton/Worthy Publishing in 2022, written to help people find hope and meaning during the Covid pandemic.
Publisher Daisy Hutton and Editorial Director Beth Adams at Worthy Publishing worked with Andy Lyon, Publishing Director at Hodder Faith, to buy the World English rights from Luigi Bonomi at LBA Books, on behalf of Juliane Roderer.  Hodder Faith is Worthy Publishing's is sister UK imprint at Hachette Book Group. Worthy Publishing plan to publish HAVE A GREAT LIFE (Buona Vita) in Winter 2024, with, I WANT YOU TO BE HAPPY (Ti Voglio Felice) following. Ti Voglio Felice has been topping the charts in Italy for months.
"Pope Francis is an inspiration to Christians around the world, and it is an honor to partner with him to share his message of hope and faith." said Beth Adams.
In HAVE A GREAT LIFE (Buona Vita), Pope Francis outlines 15 rules for a good life. We can always make a fresh start, whatever difficulties we've had in the past. In I WANT YOU TO BE HAPPY (Ti Voglio Felice), Pope Francis' starting point is that the desire for happiness was planted into the soul of every human being. Both books contain popular, accessible theology from the leader of the world's 1.3 billion Catholics.
Andy Lyon, Publishing Director for Hodder Faith, commented:
'It is a huge honour to be trusted with publishing Pope Francis's books in the English language across the world. His Petrine ministry has been admired by many as a tremendous gift as he has called us all over the past decade to think more intently about the shape of the Church in the future. These books represent Pope Francis at his pastoral best, throwing his arms wide open to include an audience even beyond the Church, encouraging us to attend to our inner lives and respond to the spiritual instinct in the soul of each one of us.'
For publicity inquiries, please contact:
Laini Brown; Laini.Brow@hbgusa.com<mailto:Laini.Brow@hbgusa.com> 615-371-7763