Finding Relief from the Pressures of Social Media
New devotional for teens addresses the effects of smartphone usage and offers practical advice for wise engagement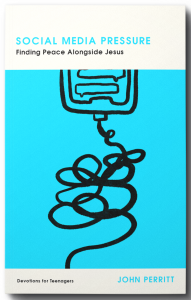 There are very few people among us without a smartphone. Our phones are a major part of daily life, and there are many positives: being able to send messages of encouragement, having instant access to take a picture, reading the Bible from anywhere, or listening to music. However, there are drawbacks as well, especially when it comes to the effects of too much time spent on social media.
Statistics show that teens especially spend most of their waking hours on screens, without a lot of direction on managing their online life. In his new devotional for teens, Social Media Pressure: Finding Peace Alongside Jesus (New Growth Press/May 15, 2023), John Perritt, a longtime youth pastor, guides teens in making sure that their relationship with God remains at the center of their life without letting their phone take over.
"As you are well aware, sometimes our relationships with phones can cause a lot of angst and pain," Perritt writes. "Have you ever gotten a DM that destroyed your day? Or had a humiliating picture of you posted for all to see? Has someone ever sent you explicit content? If any of these things have happened to you, you know how much hurt and embarrassment can come from misuse of phones or social media."
Perritt helps show why social media can leave users feeling sad, anxious, and depressed and points to practical ways of turning to Jesus for rest and wholeness. The devotionals address social media pressures including the fear of missing out, comparing yourself with others, being bullied, and even being addicted. They will help direct teens to interact with social media in a way that is sensible, smart, and biblical, while at the same time finding the peace that comes with walking alongside Jesus. Perritt wants readers to see that God is a true refuge in the midst of the negative thoughts social media can often foster.
Using a daily devotional format, Social Media Pressure fosters reflection on how social media impacts us and gives practical advice on wise engagement. Each chapter invites the reader to establish an "Alongside Practice" that encourages specific, healthy habits that will bring peace to daily life. The format provides readers with four devotions per week, allowing plenty of grace for missing a day or two during the week. Each week includes a weekend conversation section for the teen to have with their "Alongsider"—a parent, mentor, or friend to read and discuss each devotion with.
"This book is written in response to the anxiety many of us feel through our experience with social media. In some ways, the stress and loneliness can feel overt, and in some ways it's more subtle," Perritt shares. "This book uncovers many examples of how our relationships, mental health, and perception of the world around us can be directly affected by our choices on social media. How do we gain more peace in our lives? How do we relate more thoughtfully with others? How do we recognize if we are becoming digitally addicted? What does God have to do with any of this?"
Sarah Eekhoff Zylstra, an author and senior writer for The Gospel Coalition writes, "This clear-eyed, compelling, and challenging devotional is perfect for teens or young adults (as well as their parents or youth leaders) who are serious about following Jesus in a digital age. John Perritt leads readers to examine their habits, identify their sin, and begin to interact with social media in a healthy, purposeful way."
Social Media Pressure is the second book in the Devotions for Teenagers series. Also available is Alongside Jesus by Drew Hill.
Social Media Pressure: Finding Peace Alongside Jesus
Part of the Devotions for Teenagers series
by John Perritt
Print ISBN: 978-1-64507-310-9
May 15, 2023 / Retail Price: $16.99
RELIGION / Christian Ministry / Youth
John Perritt, DMin, serves as the Director of Resources for Reformed Youth Ministries and has served in student ministry for over twenty years.  He is the host of The Local Youth Worker podcast and is a frequent conference speaker. Perritt is the author of several books, including Mark: How Jesus Changes Everything and Social Media Pressure.  John and his wife, Ashleigh, are the parents of five children and live in Ridgeland, MS.
For review copy and interview information, contact:
Audra Jennings – audra@newgrowthpress.com