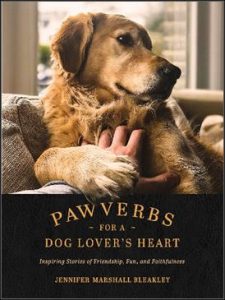 Carol Stream, Ill. — (April 12, 2023) — Pawverbs for a Dog Lover's Heart: Inspiring Stories of Friendship, Fun, and Faithfulness by Jennifer Marshall Bleakley has surpassed 100,000 copies sold.
Pawverbs for a Dog Lover's Heart, which released September 8, 2020, is a collection of stories with beautiful photographs, each featuring a real-life animal and principle from the book of Proverbs. The lovable dogs in Pawverbs show us the value of listening and loyalty, what it means to trust and obey, and the importance of just sitting with someone and being a friend.
Sarah Atkinson, VP of Tyndale Book Group, shared, "I couldn't be more delighted to celebrate Pawverbs for a Dog Lover's Heart hitting the milestone of 100,000 copies sold! (And not just because my own boy, Bullet, is one of the beloved animals featured in its beautiful pages.) Jennifer Marshall Bleakley is a gift in every way—her talent and skill as a writer, her hardworking spirit, her kind heart, her encouraging words, and her calling to write books that point people to God's love through the animals He's created."
Jennifer Marshall Bleakley has a master's degree in counseling and worked as a grief counselor for several years before discovering her passion for writing. Jen lives in Raleigh, North Carolina, with her husband, Darrell, their two children, Andrew and Ella, and a menagerie of pets, including a rescue cat, a sloth-like bearded dragon, and a very needy golden retriever.
This is Bleakley's second book to achieve 100,000 units sold; her debut book, Joey, the story of a blind therapy horse, reached that milestone in 2021.
In addition to Pawverbs for a Dog Lover's Heart and Joey, Bleakley is also the author of Pawverbs, Project Solomon (co-authored with Jodi Stuber), and Pawverbs for a Cat Lover's Heart. In fall of 2023, she will release Pawverbs for Kids and Finding Grace (co-authored with Larry Randolph).
For more information or for media inquiries, please contact Madeline Daniels, madelinedaniels@tyndale.com.
Since its founding in 1962, Tyndale House Publishers has been a voice to trust for generations of readers. Today, Tyndale is one of the largest independent Christian publishers in the world. Tyndale's mission is to make the Bible accessible to as many people as possible in language that they can relate and respond to. Tyndale publishes the Holy Bible, New Living Translation (NLT), and offers nonfiction books that equip readers with Christ-centered insight, counsel, and life-improving stories. In addition, Tyndale publishes fiction from fresh new voices and celebrated authors alike, capturing the imagination of millions of readers. With a deep understanding of the importance of nurturing future generations, Tyndale also publishes children's products that make God's Word and wisdom come alive. Tyndale's independent status allows it to follow its founding model, giving a majority of annual revenue—more than $110 million throughout its history—to charitable missions. With every book purchased, Tyndale readers help meet the physical and spiritual needs of people around the world.
Contact: Madeline Daniels, madelinedaniels@tyndale.com