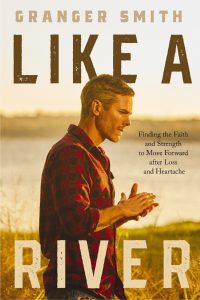 APRIL 11, 2023—Trailblazing country singer/songwriter, Granger Smith, announced today via his wildly popular social media accounts that he has decided to exit the music touring business to move towards a new chapter in his life.
"I've been so nervous to make this video, but I'm making this post to announce that this summer is my last ever tour," said Granger, who has toured for 24 years. "I have felt a strong desire to pursue ministry. This doesn't mean I'm going to start a church, but this is a time of learning and growing for me.
"I'm so hopeful about this future. Amber and I have been totally united on this. I know there are going to be a lot of questions and I'm going to try to stay engaged. I'm not going anywhere. I'm going to be here," added Granger.
Smith's "Like A River" farewell tour begins April 13 and runs through August 26. Tour dates and tickets can be found at grangersmith.com, with more shows being added in the coming weeks.
In conjunction with this monumental life change, Smith also announced the upcoming release of his memoir, Like a River: Finding the Faith and Strength to Move Forward After Loss and Heartache, on August 1, 2023 (W Publishing Group, and imprint of Thomas Nelson).
"Getting here hasn't been easy, and it hasn't been quick," writes Granger in the book's opening chapter, in reference to his family's journey through grief following the tragic passing of his young son, River. "Learning to live after loss is not a simple or straightforward process, but I'm here to help you discover that it is possible. This is a book about that process. It's about learning to live after loss, which actually comes to all of us at some point in life—one way or another. It's also about my journey toward purpose on the other side of debilitating pain."
It was important for Smith to bill his final music tour "Like A River," the same title as his book, so that the heart behind his new direction would be clear. "I want to be able to provide my fans with one last chance to see me tour. They've been such a huge part of my life and I will serve them the best way I can this summer."
Compelled by the call to ministry, Smith intends to serve his local church under the teaching, council and leadership of his pastor and elders while he continues work on a master's degree at Southern Baptist Theological Seminary along with public speaking and authorship.
In a People.com exclusive, Smith opened up more extensively about how his personal journey of grief and faith led him to his life's true calling.
Like a River is available for pre-order wherever books are sold. For more, visit www.grangersmith.com
ABOUT GRANGER SMITH:  Granger Smith is an award-winning, platinum-selling, American country music singer-songwriter who fell in love with music at an early age. Over the course of his groundbreaking career, Granger has amassed a massive and rabid audience known as Yee Yee Nation, built through heavy touring and grassroots fan engagement. He has released ten studio albums, one live album, and two EPs. Granger has charted over eight singles on the Billboard country charts, including the number one hit "Backroad Song." He is a highly sought-after speaker, actor, author, and host of the nationally syndicated iHeartRadio show After Midnite with Granger Smith. In 2017 he started the Granger Smith Podcast, where he discusses matters of faith, family, music, and the outdoors, while spreading messages of integrity, honor, truth, and restoration grounded in a Christian worldview. Granger's social media following exceeds twelve million, with more than one billion online video views. Granger and his wife, Amber, live north of Austin, Texas, with their kids London, Lincoln, and Maverick.
ABOUT W PUBLISHING, AN IMPRINT OF THOMAS NELSON:  Thomas Nelson is a world leading publisher and provider of Christian content and has been providing readers with quality inspirational product for more than 200 years. As part of HarperCollins Christian Publishing, Inc., the publishing group provides multiple formats of award-winning Bibles, books, gift books, cookbooks, curriculum and digital content, with distribution of its products in more than 100 countries. Thomas Nelson is headquartered in Nashville, TN. For additional information visit www.thomasnelson.com.
Media Contacts:
Allison Carter, W Publishing Group, allison.carter@harpercollins.com
Nicole Gaia, NPG PR, nicole@npgpr.com