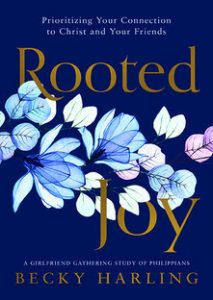 Birmingham, AL – Best-selling author Becky Harling is poised to release her new project  ROOTED JOY, the first in a series of "Girlfriend Gathering" books.  Rooted Joy will release May 2 through Iron Stream Media.
The book was born after Becky gathered with a few of her best friends for a girls' weekend.  "We shared our hearts, cried together, read scripture together, laughed together, and connected on a deep level," she shares.
After that retreat, God planted an idea in her heart for a 'Girlfriend Gathering' series that women could use for a friends' weekend retreat or for a short 4-week Bible study.
Becky asserts, "With depression, anxiety, and loneliness on the rise, women need more joy. And the secret to a more joyful life might surprise you. It's relationships. Plain and simple. In ROOTED JOY, readers encounter promises of deep-seeded joy and ways to overcome loneliness and isolation through the lens of the book of Philippians. The key to a happier, more fulfilled life is a deeper, intentional connection with Christ, and solid, faith-affirming friendships."
ROOTED JOY is published by Iron Stream Media and will release May 2, 2023. Retail page is available here.
About Becky Harling:
Becky Harling has a degree in biblical literature and is a popular speaker at retreats and conferences. Her life experience as a pastor's wife, parent, grandparent, women's ministries leader, and survivor of breast cancer all bring depth and transparency to her message. A best-selling author, Becky has written many books including How to Listen so People will Talk and The Extraordinary Power of Praise.
About Iron Stream Media:
Making disciples as we go. Iron Stream media derives its name from Proverbs 27:17, "As iron sharpens iron, so one person sharpens another."  This sharpening describes the process of discipleship, to one another. Iron Stream Media provides a variety of solutions for churches, missionaries, and nonprofits that include in-depth bible study curriculum, Christian book publishing, and consultative series. Iron Stream Media is the home of Iron Stream Books, Brookstone Creative Group, Iron Stream Kids, and Iron Stream Fiction.  https://www.ironstreammedia.com/
For More Information:
Lori Heiselman, 714-553-5181, Lori@BiscuitMediaGroup.com
Tamara Quimiro, Tamara@BiscuitMediaGroup.com