Re-Encounter the Gospel in 'Evangelism: For the Care of Souls'
Sean McGever's Biblical Wisdom on Being 'Evangelized and Re-Evangelized' for Leaders in the Faith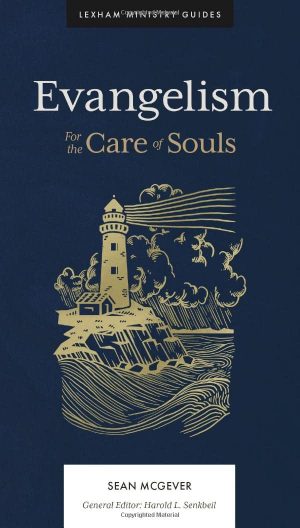 BELLINGHAM, Wash., May 1, 2023 — Urging ministers see the Gospel as the heart of soul care, author Sean McGever has released his latest book, "Evangelism: For the Care of Souls," available on May 17 within Lexham Ministry Guides, a series of resources designed to offer practical, proven wisdom to those in ministry leadership. Edited by esteemed author Harold L. Senkbeil, this valuable piece of literature written by McGever brilliantly builds upon Senkbeil's previous award-winning book, "The Care of Souls."
In "Evangelism: For the Care of Souls," McGever reminds ministers that announcing—and re-announcing—the good news of Jesus is central to pastoral care. Not only does the Gospel change us at the very moment of our salvation, but it also transforms us throughout the course of our lives, serving as the ongoing balm and cure of our hearts throughout our lifetime.
"Evangelism is not a one-time confrontational conversation, though it can be," writes McGever. "Evangelism is at the heart of the ongoing work of pastoral care, inviting outsiders into the flock of the church and reminding insiders of the heart of the ongoing life of faith."
Avoiding a simplistic, manipulative or guilt-inducing message, "Evangelism: For the Care of Souls" presents a vision and strategy for ministers to evangelize in a way that is refreshing, biblical and sustainable.
Speaking deeply to the hearts of leaders in ministry, McGever offers profound wisdom on how the Gospel compels Christians to "announce Jesus" to the world in their everyday lives, within and beyond their local church communities, in order to spread revival. He also dives into the concept of the "urgent patience" produced from authentic, transformative salvation in Jesus, a worship-filled mindset that leads believers continually back to the cross, seeking the heart of God through His Word and prayer.
"Revival happens every minute, hour, day, week, month and year," McGever shared in a recent Logos blog post. "This is because God is always active in bringing life to people. Humans are brought to life when the Word is presented through the power of the Spirit."
"Evangelism: For the Care of Souls" is available on May 17 from Lexham Press. For more information, visit https://lexhampress.com/product/231114/evangelism-for-the-care-of-souls.
About Sean McGever
Sean McGever is area director for Young Life in Phoenix, Arizona, and an adjunct faculty at Grand Canyon University. He is the author of The Good News of Our Limits and Born Again: The Evangelical Theology of Conversion in John Wesley and George Whitefield. He speaks, teaches, and ministers across the United States, Canada, and the United Kingdom.
Lexham Ministry Guides
The Lexham Ministry Guides, edited by Harold L. Senkbeil, offer practical, proven wisdom for the church. But wisdom takes time. The authors in this series developed their wisdom through years of ministry experience and conversations with colleagues. These books invite you to enter into these conversations to better serve the Savior's sheep and lambs with confidence. You will find hands-on tools, lessons from years of ministry experience, and an array of resources to apply to your own ministry context.  Learn more about the other titles in this series.
About Lexham Press
Lexham Press seeks to increase biblical literacy, thoughtful Christian reflection, and faithful action around the world by publishing a range of Bible study materials, scholarly works, and pastoral resources. For information, visit lexhampress.com.
Media Contact:  Lauren Briggs, 972-267-1111, lauren@alarryross.com