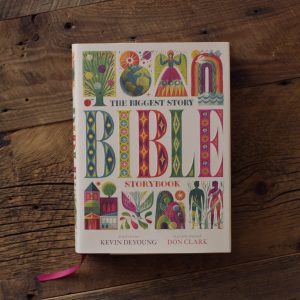 WHEATON, Ill.—Crossway is pleased to announce that The Biggest Story Bible Storybook (Crossway, March 2022) written by Kevin DeYoung and illustrated by Don Clark has surpassed 100,000 units in print sales.
"We give praise to God for the reception of this book by the people of God! What a joy to be a part of equipping the next generation to understand the storyline of Scripture and God's great and glorious purposes," writes Justin Taylor, Crossway's executive vice president of book publishing, book publisher. "With an entire curriculum for elementary-aged Sunday school classes now built around this book, we hope it will endure for a very long time in helping our younger ones enter into the biggest story!"
Beginning in Genesis and ending with Revelation, The Biggest Story Bible Storybook provides 104 engaging retellings of various Bible stories and accounts, explaining how they fit into the overarching storyline. Each reading is coupled with beautiful illustrations by award-winning artist Don Clark and concludes with a reflective prayer.
"The Bible is a big book, an old book, and the best book," writes DeYoung. "Every bit of the Bible is inspired by God. Every bit is for our good. And every bit is, in the end, about Jesus Christ."
The Biggest Story Bible Storybook is part of the Biggest Story suite of resources which includes:
The Biggest Story Curriculum (Crossway, 2023)
The Biggest Story Posters (Crossway, 2023)
The Biggest Story Verse Cards (Crossway, 2023)
The Biggest Story (Crossway, 2015)
The Biggest Story ABC (Crossway, 2017)
More information about the products in the Biggest Story suite, including The Biggest Story Bible Storybook, can be found at TheBiggestStory.com.
Kevin DeYoung (PhD, University of Leicester) is the senior pastor at Christ Covenant Church in Matthews, North Carolina, and associate professor of systematic theology at Reformed Theological Seminary, Charlotte. He has written books for children, adults, and academics, including Just Do Something; Crazy Busy; and The Biggest Story. Kevin and his wife, Trisha, have nine children.
Don Clark is an artist and cofounder of Invisible Creature, a widely respected and award-winning design studio based in Seattle, Washington. He has worked with clients such as Target, Pixar, NASA, The New York Times, LEGO, and Apple. Don and his wife, Erika, have three children and live on a small farm just outside Seattle.
Founded in 1938, Crossway is a not-for-profit global Christian publishing ministry that publishes gospel-centered, Bible-based content to honor our Savior and serve his church. Crossway seeks to help people understand the all-encompassing implications of the gospel and the truth of God's word—for all of life, for all eternity, and for the glory of God alone. Crossway is the global publisher of the ESV® (English Standard Version®) Bible, more than 1,000 Christian books, and an extensive list of gospel literature. For additional information, visit crossway.org.