LIVING WITH HOPE by Michael Panther, a gripping memoir by Sudan native inspires hope and faith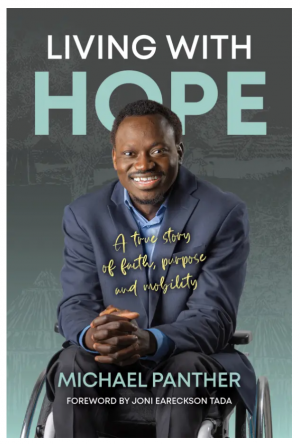 Leyland, UK – Advocate and author Michael Panther is set to release his new autobiography LIVING WITH HOPE, a one-of-a-kind true story of faith, purpose, and mobility. Living with Hope will release September 4 through 10Publishing.
Born in war-torn South Sudan, where he lost movement in his legs at ten years old, Michael tells his story of the hope he found when God led him to education and ultimately a ministry that spreads hope to others.
Gripping and inspiring, his adventures and challenges are not examples of one man's success or tales of instantaneous healing. Michael says, "At the end of this book, you will find me still in a wheelchair." Rather, Michael's story illustrates how God's grace gives us strength to face life's difficulties.
Jonathan Pountney, Editorial Director at 10ofThose, acquired world rights from Wolgemuth & Associates. Speaking about the book, he said, "Michael's story is remarkable for its drama and the way God has used him to help others in both the US and continental Africa."
Michael's story begins as he flees Sudanese militia in an attempt to find safety. It's a story of divine rescue and restoration to new life and offers fellow sufferers a message of hope anchored in a relationship with Jesus and rooted in his sovereign goodness.
LIVING WITH HOPE is published by 10Publishing and will release September 4, 2023. Retail page is available here.
About Michael Panther:
Michael Panther is the Founder and Executive Director of the ministry Living With Hope, a company devoted to sharing hope and awareness about mobility. He is a paraplegic, a native of South Sudan, and a worldwide advocate for people with disabilities. He speaks out about the work God has done in and through his life, particularly through his experience with disability.
About 10ofThose:
10ofThose is a publisher, distributor and retailer, and provides the bookstores for many major conferences. They are based in Leyland, UK and Louisville, KY.  Their publishing imprints include 10Publishing, Evangelical Press and Reformation Lightning.
For More Information:  Editorial Director, Jonathan Pountney, jonathan.pountney@10ofthose.com