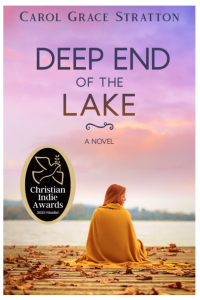 Deep End of the Lake by Carol Stratton won first place for General Fiction and The Stars in April won second place in the Young Adult category. The awards recognize outstanding Christian books by indie authors and small publishers. The Christian Indie Publishing Association sponsors the awards, and they were announced at The Well Conference in April.
1st Place
General Fiction: Deep End of the Lake, Carol Grace Stratton
2nd Place
Young Adult:  The Stars in April, Peggy Wirgau
---
About Deep End of the Lake
Who Says Giving Up Dreams Isn't Success?
Ally Cervantes has all she wants in life—an upcoming wedding, a chance to prove herself with a writing gig, and two great kids. But her life turns for the worse when the unexpected happens and she soon finds herself struggling with a rebellious teen daughter, a shaky job, and a shakier engagement. With her newfound faith acting as a life preserver, Ally discovers if you're in the deep end of the lake, you'd better learn how to swim.
Although fiction, Deep End of the Lake, is written from the author's personal compassion for families who have the privilege and responsibility to care for a child with a disability. Having worked with autistic students, Carol has seen firsthand the stress and demands these parents face and wanted to capture in a story those pressures, all while providing the encouragement that a beautiful hope and faith can bring into the struggles.
---
About The Stars in April
"Sometimes we have to go a long way to find out who we are."
The year is 1912. When doctors in India are unable to treat her baby brother's illness, Ruth's missionary parents decide there is one solution: move her mother and the children across the world—to Michigan. But India is the only home Ruth knows. In a matter of days, she must leave Papa and all she loves behind, abandon her dream of one day playing violin in the Calcutta Orchestra, and embark on a rollicking, four-week journey across the Arabian and Mediterranean Seas, followed by the voyage to New York aboard the luxurious, ill-fated RMS Titanic.
Ruth's story is one of courage and self-sacrifice as she earns her sea legs and faces the unknown, culminating in a desperate, tragic night she will never forget.
"I feel as though I'm sitting in Ruth's apartment and she is sharing her life story with me … so very well-written … one can hardly stop reading."—Floyd Andrick, former Titanic Historical Society member and personal friend of Ruth Becker
---
Iron Stream Media derives its name from Proverbs 27:17, "As iron sharpens iron, so one person sharpens another."
This sharpening describes the process of discipleship, one to another. Iron Stream Media provides a variety of solutions for churches, missionaries, and nonprofits that include in-depth Bible study curriculum, Christian book publishing, and consultative services. Iron Stream Media is the home of New Hope Publishers, Iron Stream Books, Ascender Books, LPC Books, and New Hope Kidz. Through the popular Life Bible Study and Student Life Bible Study imprints, they also provide web-based, full-year and short-term Bible study teaching plans as well as printed devotionals, Bibles, and discipleship curriculum.
Book these authors as guest speakers or for book signings by contacting
Kim McCulla at kim.mcculla@ironstreammedia.com.
Limited supply of giveaway copies available for special events and interviews. Books can also be ordered through your distributor or by emailing orders@ironstreammedia.com.