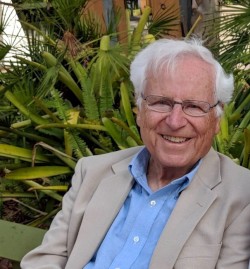 May 12, 2023 — Hugh Revell Barbour, Christian publishing visionary who grew the Fleming Revell Company, founded Barbour Publishing and helped start ECPA, died on May 5.  He was 93.
In addition to serving as a publishing leader of his own company, Hugh Barbour distinguished himself with broader industry leadership through long-term service to ECPA. He was a part of the first ECPA board of directors when it was formed in 1974, serving alongside Dr. Robert L. Mosier (chair/president), Muriel Dennis, Wilfred Frykman, William Greig, Jr., Robert Kregel, Walter Poff, and Doug Ross.
He returned to ECPA board service for two additional terms, from 1974 to 1976 and again from 1985 to 1991.
"When I came into the Christian book retailing and publishing industry in 1983, I quickly learned about the giants on whose shoulders I was standing," Jeff Crosby, current ECPA president and CEO, said. "Hugh Barbour was one of those people. At CBA conventions in July and January annually and at ECPA trade shows that supplemented CBA's work with retailers, Hugh never failed to extend his hand, his heart, and his encouragement to young booksellers like me. All of us in the work of Christian publishing are indebted to Hugh for his example of faithful, joy-filled service."
Hugh Revell Barbour was born in Manhattan on November 6, 1929 and raised in the Riverdale section of the Bronx, NY by William R. Barbour and Mary Alice McKelvey Barbour. He was the youngest of three children: Mary Clark, his older sister and William Rinehart, his older brother. He attended Horace Mann School in Riverdale, NY, graduated from Northfield Mt. Hermon in Northfield, MA. and attended Stevens Technological Institute in Hoboken, NJ before joining the Air Force in 1950.
On May 30, 1953, he married Eva Marie Cox and soon after moved to Southern California to begin his book publishing career with the Fleming H. Revell Company, which was founded in 1870 by his grand uncles Fleming H. Revell and Dwight L. Moody. He learned the book business as the West Coast sales representative, calling on bookstores from San Diego to Seattle.
After his time on the West Coast, Hugh and Eva moved to Westwood, NJ to join his father and brother on the executive team, focusing on managing the sales and marketing groups. He was a visionary from day one, always looking for new opportunities to expand the distribution of Christian books. Over the next twenty-five years, the Fleming Revell Company grew into the largest publisher of Evangelical Christian books in America.
Early on, Hugh saw an opportunity to increase distribution beyond Christian bookstores and launched Spire Books, the first mass market paperback imprint specializing in Evangelical Christian Books. Partnering with other mass market paperback publishers, including Bantam, Simon and Schuster, and Ballantine, millions of Revell books were then available in both Christian and general bookstores all over America.
In the late 1960s, there was a huge growth in charismatic churches, whose pastors and leaders often found it difficult to get bookstores to carry their, mostly, self-published books. True to his form, Hugh saw an opportunity and partnered with Jim Lyons, a pastor in Greensburg, PA, to launch Manna Books, which became a significant portion of Revell business, selling millions of copies throughout the world.
In 1973, Hugh and Al Hartley, one of the original artists of Archie Comics, saw yet another opportunity to reach youth and young adults with the Gospel and created a new series of Archie Christian Comics. Revell went on to publish dozens of titles that sold millions of copies in the traditional bookstore market, as well as prisons and stationary stores all over America.
In 1974, Hugh and his brother Bill partnered with several leading Christian publishers and founded the Evangelical Christian Publishers Association to share expertise and to better define industry standards and practices.
In the late 1970s, Hugh saw another opportunity in the market, and he asked Dale Hanson Bourke to join the Revell team to launch Today's Christian Woman, a national magazine that featured life-changing stories of Christian women and bestselling authors of Christian books.
Hugh worked with many bestselling authors including Corrie ten Boom, Eugenia Price, Marjorie Holmes, Ruth Bell Graham, Norman Vincent Peale, Rosalyn Carter, Francis and Edith Schaeffer, Helen Steiner Rice, Chuck Colson, Catherine Marshall, Rich DeVos, Hal Lindsay, Tim LaHaye and others. In 1974, Revell published Total Woman by Marable Morgan, which became the largest selling book in America that year. Her follow up book, Total Joy, was launched with a cover story in Time magazine.
The Fleming H. Revell Company was sold in 1978 to Scott Foresman and a few years later, Hugh decided to branch out on his own and launched Christian Book Bargains, a new company that featured overstock Christian books, which were primarily sold through Christian stores and through a direct mail catalog. This was a huge success and led to a new book publishing venture, The Christian Classics Library, a series of value-priced reprints, including In His Steps, Pilgrim's Progress, The Christian's Secret of a Happy Life, Mere Christianity, Screwtape Letters, and My Utmost for His Highest.
In 1984, Hugh launched Barbour Books with his nephew, Bruce Barbour, with a vision to publish Christian books that inspired readers around the world with life-changing Bible messages. The new imprint included Bible Promise Books, Inspirational Romance Books, Bible Games and Puzzles and several successful Christian Book Clubs. Millions of books were sold through the traditional bookstore channels, but also through discount outlets including Christian Book Distributors (now ChristianBook.com), and mass merchandisers like Dollar General, Sam's, Costco, and BJ's.
During Hugh's time at Revell and Barbour Books, his innovative and creative vision to see trends resulted in industry-changing thinking about getting Christian books and content to the widest possible audience. Thousands of Revell, Spire, Manna, Christian Classic Library and Barbour titles were published and sold millions of copies throughout the world.
In 1999, Hugh retired from book publishing to continue his lifelong love of buying and selling hundreds of affordable homes in New Jersey and Southwest Florida; one more way he helped people realize their dreams.
Hugh never met a stranger and lived a life dedicated to being a faithful servant and disciple of Jesus Christ. His laugh was infectious, and his friendship was cherished. In addition to Christian book publishing and real estate, Hugh pursued other passions, including flying his private planes, playing tennis and bridge, and working in his flower and vegetable gardens. He will also be remembered for his philanthropic work with the Barbour Foundation and his service at Faith Church in Ft. Myers, FL.
Hugh was predeceased by his oldest daughter, Debbie Dietrich, grandson, Alex Morton, and granddaughter, Whitney Kugelman. He is survived by his loving wife, Eva Marie, of nearly seventy years, his son Steve Barbour (Karen), daughter Connie Barbour (Tom Kugelman), seventeen grandchildren, ten great-grandchildren and one great-great-grandchild.
A Celebration of Life service will be held at Faith Church in Ft. Myers, FL on Sunday afternoon, July 16, from 3:00 to 5:00.
In lieu of flowers, donations can be mailed to Faith Church, 15690 McGregor Blvd, Ft. Myers, FL 33908 (239-482-2030) or made online at www.faithum.com.
Memories and condolences may be shared with the family and viewed online at www.nationalcremation.com or faxed to 239-656-0585