Ten Titles across Seven Categories Honored as Finalists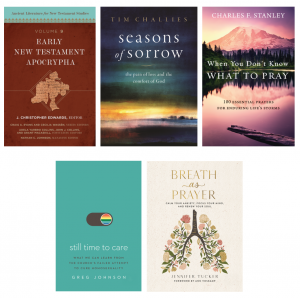 Nashville, Tenn., May 2023 — HarperCollins Christian Publishing (HCCP) congratulates its authors and publishing teams who were honored with five 2023 Christian Book Awards on May 9, 2023 at an awards ceremony in Nashville, Tennessee. These awards are presented annually by the Evangelical Christian Publishing Association (ECPA) and honor the "best of the year" in Christian books and Bibles.
The five winning titles from HCCP are:
In addition to the award-winners, 10 HCCP titles were selected as finalists across seven categories. The 10 HCCP finalists are:
"We are honored that these five titles have been recognized by the ECPA as some of Christian publishing's best releases of the year," says Mark Schoenwald, president and CEO of HCCP. "From a record-breaking pool of nearly 400 entries, I'm proud of our winning and nominated authors who chose to partner with us, as well as our publishing teams for their commitment and focus to accomplish our company mission to inspire the world."
The Christian Book Award® program has recognized the absolute highest quality in Christian books since 1978, when it was called the Gold Medallion Award. Based on excellence in content, literary quality, design, and impact, the Christian Book Award® program is the oldest and among the most prestigious awards in the religious publishing industry.
HarperCollins Christian Publishing
The world's leading Christian publisher, HarperCollins Christian Publishing, Inc. comprises the Thomas Nelson, Zondervan and HarperChristian Resources publishing groups and imprints, BibleGateway.com, FaithGateway.com, StudyGateway.com and ChurchSource.com. The Company produces bestselling Bibles, inspirational books, academic resources, curriculum, audio and digital content for the Christian market space. Bible Gateway is the world's largest Christian website with more than 29 million unique visitors each month.  HarperCollins Christian Publishing is headquartered in Nashville, Tenn. For more information visit HarperCollinsChristian.com.
Contact: Doug Lockhart, SVP, Sales and Marketing, doug.lockhart@harpercollins.com