FOR RELEASE: May 23, 2023
A beautiful literary exploration of the spiritual longings of our souls that guide us to meet our heart's true home—God—in their midst.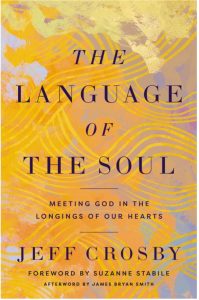 For over fifteen years, writer Jeff Crosby has been searching for a language of the soul—a way to articulate our deepest longings. Through the years he gathered clues from within global music styles, from different cultures, from his own Christian tradition and its sacred texts—and from deep within himself.
A lover of words, he sought not only to translate our longings into words but to understand why these seemingly universal yearnings have long remained unnamed. In The Language of the Soul: Meeting God in the Longings of Our Hearts (May 23), Crosby gifts us with those so-often-untranslatable desires of our hearts, guiding us to finally find the words and luminous insights for our own longings for home, for friendship, for forgiveness, and for transformation–and how God meets us in the midst of these longings. Eschewing easy answers, Crosby begins the naming process, helping us to make connections–and to recognize, within ourselves and our faith, our heart's true home.
The Language of the Soul: Meeting God in the Longings of Our Hearts
By Jeff Crosby
Foreword by Susan Stabile
US $26.99 | Hardcover | 5.5 x 8.5 | 978-1-5064-8054-1
Publication date: May 23, 2023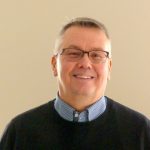 Jeff Crosby is an organizational leader in the world of words, ideas, and book publishing. Currently president and CEO of ECPA, a trade association of publishers, he has served in various executive roles, including as vice president at Ingram Book Company, and at IVP, a publisher in the Chicago area. He combines a background in journalism, leadership studies, and business with a love of language and insight from several fields in exploring faith and spirituality in light of applied practice. He and his wife of more than forty years, Cindy, have two grown children and six grandchildren.  
Media Contact: Jana Nelson, Publicity Manager, nelsonja@1517.media / 612-330-3220
---
Praise for The Language of the Soul:
"Open-hearted, accessible, and drawn from deep wells of reflection, this lovely book about the longings we know but can some-times barely name offers solace and hope. We are not alone in our longings; they are what we share most deeply. And the beginning of fulfillment lies in the longing itself. Jeff Crosby's years of wide reading and rich conversation with Christian writers are reflected in the moments of encounter and voices he invokes in story after story about longings that have brought both the ache of the "not yet" and the assurance of things not seen that enables us to rejoice in the midst of our waiting and wondering. This book is worth reading slowly, as an invitation to feel and reflect on our own deepest longings and where they may lead us."
—Marilyn McEntyre, author of Where the Eye Alights and Word by Word
"This is one of the finest books I have ever read. Crosby's humility and insight, along with his vast expertise and diverse interests, point the way toward authentic transformation and hope. Here you will find embodied, practical wisdom located in place, music, story, literature, friendship, nature, faith, and spirituality."
—Mark R. McMinn, coauthor of A Time for Wisdom
"What appears to be untranslatable in our interior lives is broadly and wisely interpreted here in this important book: We long to be loved. If God is love, we long for God. Read with gratitude as Jeff Crosby guides us to fully understand our spiritual, physical, and emotional longings."
—Christopher de Vinck, author of The Power of the Powerless: A Brother's Legacy of Love and Simple Wonders
"Sometimes our longings and discontent make us feel like we are not growing spiritually—when will we ever be satisfied?—but Jeff Crosby's work in The Language of the Soul reframes longing as a way to grow. With transparency and wisdom, Crosby walks us through the longings that show we are human and reminds us of the God who meets us right in those very spots, and often through the beauty of community. Pay attention to your saudade. Then read this lovely book."
—Karen Stiller, author of The Minister's Wife: A Memoir of Faith, Doubt, Friendship, Loneliness, Forgiveness, and More, senior editor, Faith Today magazine, Ontario, Canada
"Through multiple references the author implicitly opens up channels for the reader to see, name, and ponder how the ten longings he describes shape the reader's own life. This is a book to cherish, re-read, and discuss in small groups, it is especially suited for those who are humbly honest about their own longings, and who want to understand, and perhaps even refine them."
—Gregory Clapper, author of When the World Breaks Your Heart
"Writing a book that seeks to define an undefinable word takes someone who is willing to rely on God's wisdom and not their own, who can trust the small voice that speaks to them as they write and above all who is kind to their readers and themselves in the process. Jeff Crosby is such a person. In The Language of the Soul he introduces us to a new word that describes an ancient and ever new experience: the longing, burning heart."
—Michael Card, singer/songwriter and author of A Sacred Sorrow