Faithful Christ-centered teaching and guidance for engaging today's pressing cultural issues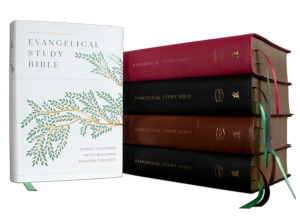 Nashville, Tenn., May 2023 – Thomas Nelson, a division of HarperCollins Christian Publishing, announces the release of the Evangelical Study Bible.
With notes and study prompts written by conservative evangelical theologians, the Evangelical Study Bible is designed to ground readers in the truth that shapes their lives. Readers will find sidebars exploring essential doctrines of the Christian faith, verse-by-verse commentary on the entire Bible, and biographies of key biblical figures. It also contains articles addressing many of the significant cultural issues Christians navigate daily.
"The Evangelical Study Bible represents the important work of mining the depths of scripture so that we will know how to live faithfully to Christ," said Philip Nation, vice president and publisher of Bibles for Thomas Nelson. "I'm grateful for this new study edition that will guide people to be thoughtful about the Christian faith and know how to boldly live with a gospel witness in today's culture."
Trusted by millions of believers around the world, the New King James Version (NKJV) is a bestselling modern word-for-word biblical translation. It balances the literary beauty and familiarity of the King James tradition with an extraordinary commitment to preserving the grammar and structure of the underlying biblical languages. While the translator's relied on the traditional Greek, Hebrew, and Aramaic text used by the translators of the 1611 King James Version (KJV), the comprehensive translator notes offer important insights about the latest developments in biblical manuscript studies.
About Thomas Nelson:  Thomas Nelson is a world leading publisher and provider of Christian content and has been providing readers with quality inspirational products for more than 200 years. As part of HarperCollins Christian Publishing, Inc., the publishing group provides multiple formats of award-winning Bibles, books, gift books, cookbooks, curriculum and digital content, with distribution of its products in more than 100 countries. Thomas Nelson, is headquartered in Nashville, TN. For additional information visit thomasnelson.com
Contact:  Amy Bigler, Public Relations Director, amy.bigler@harpercollins.com