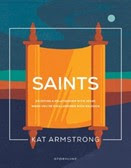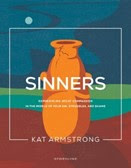 Carol Stream, Ill. (June 5, 2023) NavPress will release the next two installments in the Storyline Bible Study series by Kat Armstrong in August 2023. The fifth and sixth offerings in the series are titled Sinners and Saints.
Each study contains five lessons and can be paired with its thematic partner for a seamless ten-week study to fit in a church semester. Every study features
a gospel presentation at the beginning of each Bible study;
full Scripture passages included in the study so that you can mark up the text and keep your notes in one place;
insights from diverse scholars, authors, and Bible teachers; and
free resources for preaching and leading small groups.
Sinners: Experiencing Jesus' Compassion in the Middle of Your Sin, Struggles, and Shame
In Sinners, we will discover God's tender compassion on anyone––regardless of their social status, troubled past, or the labels placed upon them. And we are going to notice the counterintuitive ways "sinful" people respond to Jesus in righteous acts of faith. You'll start to see a theme unfold: The people considered sinful often act with greater faith than the most religious people of Jesus' day.
Saints: Enjoying a Relationship with Jesus When You're Disillusioned with Religion
In Saints, we will look at characters and themes that are cautionary tales for Christians and Christian leaders. None of us are above the actions described in the Bible, and all of us are in need of the redemption and restoration of God.
Sinners | ISBN: 978-1-64158-596-5 | Softcover: $16.99 | August 8, 2023
Saints | ISBN: 978-1-64158-600-9 | Softcover: $16.99 | August 8, 2023
NavPress.com 
NavPress is the book-publishing arm of The Navigators. With a rich catalog of bestselling books, ministry resources, and The Message® Bibles, NavPress supports readers as they know Christ, make Him known, and help others do the same.®  Since 2014 NavPress has been in a publishing alliance with Tyndale House Publishers, one of the largest independently owned Christian publishers in the world. NavPress resources are sold, distributed, and marketed worldwide through Tyndale House Publishers.
Contact: Natalie Wierenga, nataliewierenga@tyndale.com, 630.784.5211