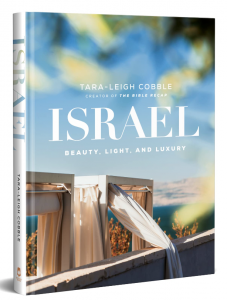 Bloomington, MN (May 30, 2023)—Popular Bible teacher and podcaster Tara-Leigh Cobble's new book, Israel, joined the Wall Street Journal's bestseller list on April 29, 2023. Israel has claimed the No. 10 spot on WSJ's hardcover nonfiction bestseller list and the No. 9 bestseller placement on Publishers Weekly's hardcover frontlist nonfiction list.
Israel combines thirty-one biblically rich devotionals with 350 photos of modern-day Israel into a spectacular coffee table book, revealing the beauty of this country in a way rarely depicted on the printed page. Cobble, creator of The Bible Recap, has led boutique teaching tours of Israel since 2014. The book gives readers an unforgettable tour of the Holy Land, unveiling Israel's features, flora, and people, all while making deeper connections with its biblical stories and truth.
Whenever Cobble visits Israel, she is always struck by the contrast between the dusty ruins that people picture in their minds and the vibrant colors and contrasts she experiences in real life. Israel truly is a gorgeous destination, worth visiting for its beauty as well as its historical significance.
But more than anything, Cobble wants to connect readers to the God who makes flowers bloom in the desert and who came as a human to this incredible corner of the world.
Israel is available everywhere books are sold.
Tara-Leigh Cobble's zeal for biblical literacy led her to develop an international network of Bible studies called D-Group (Discipleship Group). Every week, over 300 men's and women's D-Groups meet weekly in homes and churches around the world to study Scripture. She also writes and hosts a daily radio feature called The God Shot and a daily podcast called The Bible Recap designed to help listeners read and understand the Bible in a year. The Bible Recap podcast has been downloaded more than 230 million times, and thousands of churches around the world have joined their reading plan to know and love God better.
For more information:
taraleighcobble.com | thebiblerecap.com | mydgroup.org
Social media: @taraleighcobble | @thebiblerecap | @mydgroup
Bethany House, a division of Baker Publishing Group, seeks to uplift readers' families, faith, and free time with our library of industry-leading fiction and bestselling, Christ-centered nonfiction.
Baker Publishing Group publishes high-quality writings that represent historic Christianity and serve the diverse interests and concerns of evangelical readers. Learn more at bakerpublishinggroup.com.
Contact: Rebecca Schriner, (952) 829-2512, rschriner@bakerpublishinggroup.com