Chris Broussard and Matthew Daniels Co-Host a New Video Bible Study featuring Andrew Young, Senate Chaplain Barry Black and other Notable Voices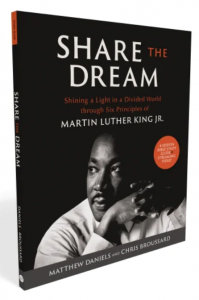 NASHVILLE, Tenn., May 22, 2023 – A new transformative video Bible study, Share the Dream: Shining a Light in a Divided World through Six Principles of Dr. Martin Luther King, Jr., inspires and encourages viewers to transform their communities, cities and nations for Christ by embodying the biblical principles of love, conscience, freedom, justice, perseverance and hope.
Share the Dream offers a timely exploration of the timeless values that have the power to unite and ignite change in a world facing a tide of division, strife and violence. It releases from HarperCollins Publishing in collaboration with Urban Ministries, Inc., and The K.I.N.G. Movement on August 8, just weeks prior the momentous 60th anniversary of Dr. King's historic "I Have a Dream" speech on August 28.
"In these difficult and dangerous times, this material needs to be in the arsenal of those who seek to bring healing to our hurting nation," said U.S. Senate Chaplain Barry Black of Share the Dream.
Co-hosted by Matthew Daniels, J.D., Ph.D., a human rights and counter-terrorism expert, and Chris Broussard, an acclaimed journalist and broadcaster for FOX Sports 1 and FOX Sports Radio, Share the Dream brings together an esteemed lineup of high-profile figures who lend their insights and perspectives. Featured contributors include:
Ambassador Andrew Young
U.S. Senate Chaplain Barry Black
ABC News Broadcast Journalist Linsey Davis
GRAMMY Award-winning musical artist Lecrae; and
U.S. Senator Chris Coons.
"Many of us have been sidelined for too long and paralyzed by the complexity of the issues facing us. We don't know what to do, so often we do nothing. But that's a formula for social disaster," said Daniels. "In order to truly enact change, we have to build networks and communities that can model and spread the ideas that are the spiritual and educational antidote to ideologies of hatred, racism and violence."
The video study consists of dynamic lessons that delve into each of the six principles, accompanied by an engaging study guide to facilitate individual or group reflection. Each lesson combines powerful teachings, thought-provoking discussions, and real-life applications to encourage viewers to live out these principles in their daily lives.
"Dr. King's dream was rooted in the love of God for all humanity – for all of His children made in His image. In other words, there was a profoundly spiritual dimension to the early Civil Rights Movement," said Broussard. "For our nation to thrive, we need to help a new generation better understand, live and experience the Gospel-based principles at the heart of the dream to which Dr. King dedicated his life. That's why we created Share the Dream."
Share the Dream provides an invaluable opportunity for individuals and communities to deepen their understanding of Dr. King's legacy and the profound impact of the biblical principles that motivated him, bridging the gap between the past and the present in the pursuit of a more just, compassionate and unified society.
"Dr. King and other courageous men and women were able to change history through the power of a dream that was rooted in the Gospel and the love of God for all of His children made in His image," said Urban Ministries' CEO, C. Jeffrey Wright. "Our Share the Dream series explores the profoundly spiritual dimension to the early civil rights movement. We also show how the Gospel-based principles behind the astonishing success of that movement can be applied in our nation and our world. Perhaps this is most clearly seen in the famous 'I Have a Dream' speech that Dr. King delivered on August 28, 1963, in which he called for racial equality in America."
To learn more about Share the Dream: Shining a Light in a Divided World through Six Principles of Dr. Martin Luther King, Jr. visit sharethedreamstudy.com.
About UMI
UMI (Urban Ministries, Inc.) is the largest independent religious media and publishing company serving the African American market. Founded in 1970 in Chicago, Illinois, by Dr. Melvin E. Banks, Sr., UMI creates positive, transformative analog and digital content based on a biblical worldview that is especially empowering to the African American community. UMI offices are in suburban Chicago. UMI exists to disseminate culture changing, biblically sound content and has tremendous credibility in producing high quality material reaching millions of people throughout the globe.
About The K.I.N.G. Movement
K.I.N.G. is a national Christian Men's Movement geared toward strengthening men in their personal relationship with Jesus Christ by providing brotherhood, encouragement, accountability, knowledge, and fellowship. The name K.I.N.G. is an acronym for Knowledge, Inspiration, and Nurture through God. K.I.N.G. is a non-denominational movement that seeks to unite true Bible-believing Christian men across racial, denominational, generational and political lines. It is our hope that Christian men can move past their minor doctrinal differences and work together to expand the Kingdom of God. While founded by Chris Broussard in South Orange, New Jersey, K.I.N.G. has local chapters across the United States.
About HarperCollins Christian Publishing
The world's leading Christian publisher, HarperCollins Christian Publishing, Inc. comprises the Thomas Nelson, Zondervan and HarperChristian Resources publishing groups, BibleGateway.com, FaithGateway.com, StudyGateway.com and ChurchSource.com. The Company produces bestselling Bibles, inspirational books, academic resources, curriculum, audio, and digital content for the Christian market space. Bible Gateway is the world's largest Christian website with more than 20 million unique visitors each month. HarperCollins Christian Publishing is headquartered in Nashville, Tenn. with additional offices in the U.S. and Mexico. For more information visit HarperCollinsChristian.com.