So God Made a Mother's Story releases in April 2024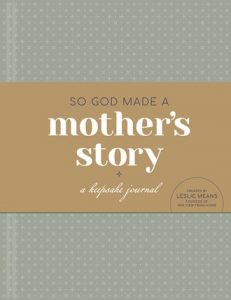 Carol Stream, IL (September 15, 2023)—Tyndale Momentum, a nonfiction imprint of Tyndale House Publishers (@tyndalehouse), will release So God Made a Mother's Story, a keepsake journal to the bestselling So God Made a Mother, in April 2024. Upon its release in April 2023, So God Made a Mother became an instant national bestseller, hitting the Publishers Weekly Hardcover Frontlist Nonfiction, Wall Street Journal Bestselling Books, and ECPA Non-Fiction Bestsellers lists.
So God Made a Mother's Story is an heirloom-quality guided journal filled with thoughtful questions and space for a mother or mother figure to write about life before, within, and beyond motherhood. It is an invitation to go deeper into a mother's unique story and create a keepsake for families to cherish forever.
Commenting on this exciting keepsake companion, founder of Her View From Home and author of So God Made a Mother, Leslie Means shares, "The Her View From Home team and I are thrilled to offer this journal as a companion to So God Made a Mother. It gives women a chance to share their own stories in their own handwriting—and that's a gift anyone who knows and loves a mom will cherish."
Leslie Means is founder and owner of the popular website Her View From Home, which features heartfelt contributor stories on motherhood, marriage, faith, and grief. She is a former news anchor and a weekly columnist, and she has published several short stories. She is married to a very patient man named Kyle, and together they have three fantastic kids: Ella, Grace, and Keithan. When she's not sharing too much personal information online or in the newspaper, you'll find her somewhere in Nebraska spending time with family and friends.
Leslie is represented by Claudia Cross and Katherine Latshaw of Folio Literary Management, LLC.
For more information contact Amanda Woods, amandawoods@tyndale.com, 630-784-5125.
Since its founding in 1962, Tyndale House Publishers has been a voice to trust for generations of readers. Today, Tyndale is one of the largest independent Christian publishers in the world. Tyndale's mission is to make the Bible accessible to as many people as possible in language that they can relate and respond to. Tyndale publishes the Holy Bible, New Living Translation (NLT) and offers nonfiction books that equip readers with Christ-centered insight, counsel, and life-improving stories. In addition, Tyndale publishes fiction from fresh new voices and celebrated authors alike, capturing the imagination of millions of readers. With a deep understanding of the importance of nurturing future generations, Tyndale also publishes children's products that make God's Word and wisdom come alive. Tyndale's independent status allows it to follow its founding model, giving a substantial portion of annual revenue—millions of dollars per year—through corporate donations and the work of Tyndale House Foundation. With every book purchased, Tyndale readers help meet the physical and spiritual needs of people around the world.
Contact: Amanda Woods, amandawoods@tyndale.com, 630.784.5125