Awaiting the Manger: Years in the Making from Beloved Author Ocieanna Fleiss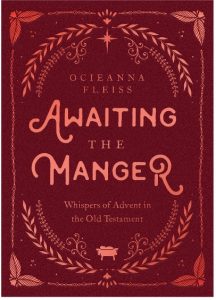 EUGENE, OR.— The year is passing fast, and the Advent season will be here before we know it. In her new book, Awaiting the Manger: Whispers of Advent in the Old Testament, best-selling author Ocieanna Fleiss invites readers not to rush through the 25 days of Advent, but to relish those days by delving into the timeless stories of the Old Testament. Years in the making, Awaiting the Manger shines a light on the hints of Jesus's birth woven through the ancient text. Through daily readings, which showcase vibrant cultural and historical insights, readers will step into the sandals of biblical characters such as Abraham, Sarah, Joshua, Naomi, Elijah, and many more.
In Awaiting the Manger Fleiss leads readers on an Advent journey to discover the profound gift of God's love within the pages of the Old Testament. Every reading ends with a series of interactive steps allowing individuals or groups to take their celebration of Advent even further—as they Practice, Reflect, Pray, Read, Sing. Awaiting the Manger honors the redemption story as revealed in the Old Testament and recognizes how vital it is to our celebration of Jesus's birth today. This makes Awaiting the Manger the perfect present, one that will become a staple of family Advent traditions, giving readers a unique gift wrapped in the profound, healing, and life-transforming love of Christ.
Awaiting the Manger
Harvest House Publishers
ISBN13:  978-0736987783
September 2023
Softcover, 176 pages, $17.99
Ocieanna Fleiss has written several books including her memoir, Love Like There's No Tomorrow: How a Cardiac Arrest Brought My Heart to Life. She has taught the Bible for more than a decade, always delighting in how God's love is shown throughout his Word. Ocieanna and her husband have four kids and make their home in Washington State. You can find Ocieanna on Facebook, Instagram, and at  ocieanna.com.
About Harvest House: Harvest House, a Christian publishing company based in Eugene, Oregon, publishes more than 100 books per year and carries a strong backlist offering more than 1,500 titles. Over 145 million Harvest House books have been sold worldwide through diverse distribution channels, and additional millions have sold in over 75 different languages.
Media Contact: Jeane Wynn,918-630-9695, Jeane@wynnwynnmedia.com