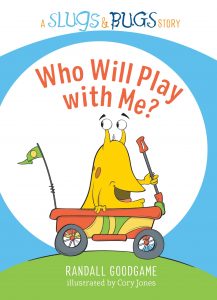 NASHVILLE, TENN., May 10, 2019—B&H Publishing is excited to announce the first two Slugs & Bugs books, "Who Will Play with Me?" and "Are We Still Friends?," from award-winning family musician and Slugs & Bugs creator Randall Goodgame.
Goodgame has released four critically-acclaimed Slugs & Bugs children's albums in the past 12 years, with CCMMagazine.com describing the brand as ". . . the greatest thing to happen to children's music in a generation." Goodgame has received multiple Dove Award nominations and rave reviews from families all over the world that love his Scripturally-based, witty and unique music.
Now, Goodgame has written the first two Slugs & Bugs children's books, "Who Will Play with Me?" and "Are We Still Friends?" (May 15, B&H Publishing). Goodgame says he designed the books so that old and new friends of Slugs & Bugs alike can enjoy its witty world and biblical wisdom through books, even when the music isn't playing.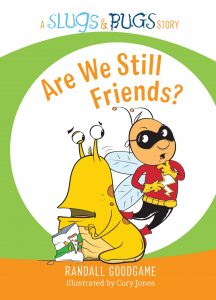 Both books are designed to get kids ages 4 to 8 laughing while teaching them Scriptural truths, using few words and engaging, visual storytelling. "Who Will Play with Me?" teaches kids a lesson on humility from Philippians 2:3, while "Are We Still Friends?" shows kids that friendship is about forgiveness and trust, based on Ephesians 4:32.
"I'm thrilled to bring Slugs & Bugs into the world of books! I am passionate about the gospel and how it influences our daily life and choices, specifically how the fruit of the Spirit is born out of our moment-to-moment submission to Jesus. I think even very young kids can glean a lot from books that are steeped in those deep concepts, especially if the stories are funny and honest," Goodgame said.
"My hope is that kids see themselves in these books. In 'Who Will Play with Me?,' I hope they see the challenge of thinking of others first, as well as the joy that can bring. I hope 'Are We Still Friends?' helps them build a foundation for thinking like Jesus and shows them a healthy way forward when in conflict with friends—whether they are the victim or the culprit." Both books reflect back into the Bible and provide yet another context for understanding life through God's Word."
B&H will release two more Slugs & Bugs books this fall, "The Society of Extraordinary Raccoon Society" and "The Society of Extraordinary Raccoon Society on Boasting" (October 15, B&H Publishing).
Goodgame has written songs for Veggie Tales, Caedmon's Call, Andrew Peterson, Jason Gray, Jill Phillips and Eric Peters. He is also a frequent collaborator with singer-songwriter Andrew Peterson, working on the 2006 music album, "Slugs & Bugs & Lullabies." From this album, the song, "You Can Always Come Home," was featured on the Veggie Tales' "The Wonderful Wizard of Ha's" (2007).
"We are honored to partner with Randall and the incredible, Christ-centered Slugs & Bugs brand he created," said Jennifer Lyell, V.P. of Book Publishing and Merchandising. "We pray that kids not only love these books, but grow to love God more because of them."
B&H is supporting the release of "Who Will Play with Me?" and "Are We Still Friends?" with a book release party hosted at the LifeWay Headquarters on Tuesday, May 21, as well as a national marketing and publicity campaign. For more information, visit bhpublishing.com.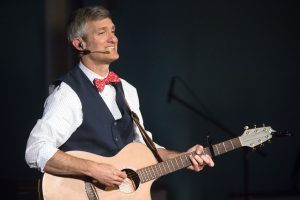 Hailed by CCMMagazine.com as " . . . the greatest thing to happen to children's music in a generation," Randall Goodgame has a deep and abiding passion for helping families get to know Jesus and the joy of the gospel. His Slugs & Bugs music is among the most revered and critically lauded series in Christian family entertainment, garnering multiple Dove Award nominations. He now brings his trademark artistic excellence and delightful enthusiasm for the Word to these books written for children and the grown-ups who love them.
B&H Publishing Group, an imprint of LifeWay Christian Resources, is a team of mission minded people with a passion for taking God's Word to the world. Because we believe Every Word Matters® we seek to provide intentional, Bible-centered content that positively impacts the hearts and minds of people, inspiring them to build a lifelong relationship with Jesus Christ. Among our print and digital releases for the trade, church and academic markets, titles include "The New York Times" No. 1 bestsellers "The Love Dare" and "The Vow," No. 1 CBA bestseller "I Am a Church Member," as well as the newly-revised Christian Standard Bible (CSB) version.