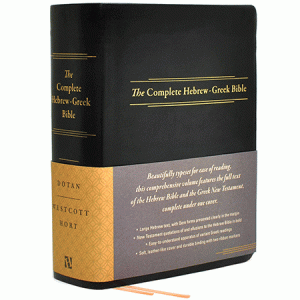 PEABODY, MA (May 7, 2019)—The Complete Hebrew-Greek Bible has been selected as "Best in Category" in the reference category at the 62nd annual New England Book Show awards ceremony. The Award was presented by the Book Builders of Boston on May 7th, at Boston's Symphony Hall.
Hendrickson's The Complete Hebrew-Greek Bible combines under one cover the complete text of the Hebrew Bible (edited by Aron Dotan) and the Greek New Testament (edited by B. F. Westcott and F. J. A. Hort). Ideal for pastors, students, scholars, and anyone else who has studied both Greek and Hebrew, this is an excellent volume for those who want a complete original-language Bible in an attractive package and at an affordable price.
The Complete Hebrew-Greek Bible  was selected for its design, quality of materials, and workmanship. "A complex typographic feat in two languages," commented the judges. They also remarked that it has an elegant binding, sensitively chosen. Karol Bailey designed the cover and packaging, and Dave Pietrantonio coordinated the production and printing.
The New England Book Show has been recognizing the outstanding work done by New England publishers, printers, graphic designers, and developers for more than 60 years. It is an annual, juried show that features a number of categories, including trade, juvenile, college and more, for work in both print and digital media..
Hendrickson Publishers has a strong history of producing outstanding academic, trade, reference books, and Bibles at a reasonable price. Their products include books on Christian living, biblical studies and reference works for pastors, thoughtful laypeople, and the academy. Learn more about The Complete Hebrew-Greek Bible at www.hendrickson.com.
Media Contact: Meg Rusick, Marketing & Communications Manager, Hendrickson Publishers
mrusick@hendrickson.com  978-573-2147