How a Minnesota teenager is training rabbits to become comfort animals on his own private island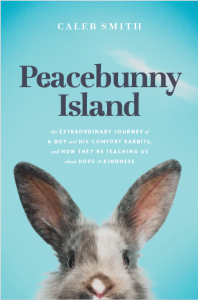 CAROL STREAM, ILL. (July 27, 2020)—Tyndale House Publishers (@tyndalehouse) today announced that it has acquired the memoir of 15-year-old Caleb Smith, the visionary behind Peacebunny Island and related educational nonprofit. Peacebunny Island: The Extraordinary Journey of a Boy and His Comfort Rabbits, and How They're Teaching Us about Hope and Kindness has an anticipated publication date of March 2021. In this compelling memoir, Smith tells his story—how, at 8 years old, he began mobilizing youth to care for rescued rabbits and rare heritage breeds, and how his vision grew until, at age 14, he acquired his own private island on the Mississippi River. This 22-acre sanctuary called Peacebunny Island, along with its other nearby islands, provide the secluded summer setting to train rabbits and youth to share "hope and hoppiness."
From hosting his first bunny birthday party in the neighborhood to purchasing a houseboat he'd need to learn to pilot, to finding an unknown river island to devote to animal rescue efforts, Caleb's coming of age story includes a collection of adventures as he overcame challenges as a young entrepreneur. Dan Strone of Trident Media Group brokered the deal for world rights.
"This story had me hooked from the first page," says Sarah Atkinson, associate publisher of Tyndale Momentum. "As an animal lover, I was fascinated by Caleb's adventures while he sought to preserve rare rabbits and some rescues along the way who help children, veterans, senior citizens, and communities who are hurting. But Peacebunny Island is more than an animal story: it's the odyssey of a remarkable young man committed to doing what he can to make the world more compassionate toward animals and to each other, inviting readers to change their world, one interaction at a time. Peacebunny Island is charming, funny, wise, and inspiring; it will bring goodness into the world at a time when we desperately need stories of hope to warm our hearts."
Executive publisher Jan Long Harris says, "Peacebunny Island is the inspiring story of an extraordinary boy living out his calling to increase the world's supply of kindness, happiness, and hope. After reading about Caleb and his comfort bunnies, even the most hardened cynics are likely to find themselves grinning with joy and wonder. What a privilege to publish this book!"
Every so often someone comes along to remind us that people with character, decency, and goodness still exist. Smith, who lives with his mom and dad outside Minneapolis, is a living example of this—running his own business with the goal of helping those in need and following his heart to make the world a kinder, more compassionate place. Just this year, amid the COVID-19 pandemic, Caleb received a call from an organization that operates 46 senior communities across the Midwest. Ordinarily they would be making plans for Easter celebrations for thousands of older adult residents. But social distancing and increasing isolation forced them to look elsewhere for a way to share the joy of the holiday and to bring comfort during these uncertain times. They reached out to Caleb for help. The teenager, whose normally busy Easter season had also been up-ended, knew what to do.
Enter Lionardo da Vinci, Fudge, Willow, Tater Tot, Morris, and Thumbelina—and a host of other comfort rabbits, part of the larger colony that Caleb refers to as the Peacebunnies, who visit birthday parties, wedding receptions, and Easter egg hunts.  But their main gift is helping people who are looking for warmth and calm in the saddest and loneliest times of their lives. With their help, Caleb pulled together a team to bring the rabbits to porches and windows and to create uplifting videos specifically for those in hospice care. Caleb had a simple message for eager senior home executives: Together let's share hope and hoppiness! Kindness always wins.
This heartwarming, family-oriented memoir is one of those rare books that feeds America's insatiable appetite for inspiring stories and reassures us about the character of the next generation. With the same kind of hopeful message as R. J. Palacio's Wonder, John Grogan's Marley & Me, and the Chicken Soup for the Soul series, Peacebunny Island reminds us of the important lessons that we often seem to forget.
The release of Peacebunny Island will be buoyed by a national marketing and publicity campaign.
---
Since its founding in 1962, Tyndale House Publishers has been a voice to trust for generations of readers. Today, Tyndale is one of the largest independent Christian publishers in the world. Tyndale's mission is to make the Bible accessible to as many people as possible in language that they can relate and respond to. Tyndale publishes the Holy Bible, New Living Translation (NLT) and offers nonfiction books that equip readers with Christ-centered insight, counsel, and life-improving stories. In addition, Tyndale publishes fiction from fresh new voices and celebrated authors alike, capturing the imagination of millions of readers. With a deep understanding of the importance of nurturing future generations, Tyndale also publishes children's products that make God's Word and wisdom come alive. Tyndale's independent status allows it to follow its founding model, giving a majority of annual revenue—more than $100 million throughout its history—to charitable missions. With every book purchased, Tyndale readers help meet the physical and spiritual needs of people around the world.