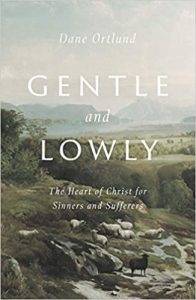 WHEATON, Ill.—Crossway is pleased to announce that Gentle and Lowly: The Heart of Christ for Sinners and Sufferers (Crossway, April 2020) has won the 2020 WORLD Magazine Accessible Theology Book of the Year. Megan Hill's A Place to Belong: Learning to Love the Local Church (Crossway, May 2020) was awarded honorable mention in the same category.
"It's a great honor for Crossway books to show up in WORLD Magazine's Accessible Theology Books of the Year list—a category near and dear to the heart of our publishing program," commends Justin Taylor, Crossway's executive vice president of book publishing and book publisher. "Dane Ortlund's Gentle and Lowly is a beautiful book about our beautiful Savior, and we are grateful to see the ways in which God is using it to encourage his weary people with the heart of Christ. WORLD rightly describes Megan Hill's honorable mention book, A Place to Belong, as 'a love letter to the Church.' Has there ever been a better time for an extended meditation on how to love the beautiful place where reconciled sinners can most deeply belong? We give thanks to God for these authors, these works, and the ways in which he is using them in the lives of his people."
WORLD Magazine's national editor, Jamie Dean, writes of Gentle and Lowly, "Perhaps a boiled-down way to think about what Ortlund expresses: If we are in Christ, God doesn't just tolerate us. He welcomes us. He doesn't only love us. He likes us. That's what it means to be His friend. Ortlund makes it clear this is only possible because Jesus suffered God's wrath for sin on the cross. In that way, the book is an uncommon volume that could speak deeply to two very different groups of readers: mature Christians already familiar with God's grace and non-Christians wondering about a God of both wrath and love."
In Gentle and Lowly, Ortlund takes readers into the depths of Christ's very heart for sinners, diving into Bible passages that speak of who Christ is and encouraging readers with the affections of Christ for his people. His longing heart for sinners comforts and sustains readers in their up-and-down lives.
With rich theology and practical direction, Hill's A Place to Belong invites readers to experience the local church in light of the Bible's testimony. Considering nine biblical terms for the church—such as beloved, brothers and sisters, saints, and gospel partners—Hill equips Christians to love and serve one another. New Christians and mature believers alike can find learning to love the local church as one of their greatest privileges and highest joys.
Dean writes, "Megan Hill has written a love letter to the church in A Place To Belong. With many Christians separated from public gatherings for weeks or months this year, this book might cause a craving for casserole-laden tables in fellowship halls—not for the pasta salad, but for the feast of fellowship in Christ. Hill reminds readers that in a complex world, God carries out His mission and purpose in simple ways: Ordinary worship by ordinary people gathered in ordinary places."
WORLD Magazine's 2020 Books of the Year awards 25 books in five categories that editor in chief Marvin Olasky say "contribute to understanding big controversies and great divides, including creation-evolution battles in science, racial and religious splits in American society, and times of war and revolution in our past."
Founded in 1938, Crossway is a not-for-profit global Christian publishing ministry that publishes gospel-centered, Bible-based content to honor our Savior and serve his church. Crossway seeks to help people understand the all-encompassing implications of the gospel and the truth of God's word—for all of life, for all eternity, and for the glory of God alone. Crossway is the global publisher of the ESV® (English Standard Version®) Bible, more than 1,000 Christian books, and an extensive list of gospel literature. For additional information, visit crossway.org.
Contact: Lauren Susanto, lsusanto@crossway.org  crossway.org