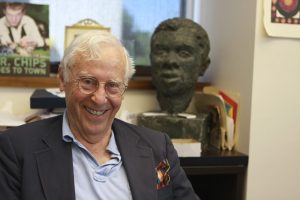 William B. Eerdmans Jr., who led the Wm. B. Eerdmans Publishing Company for more than fifty years, died on Friday, November 13. He was 97.
Eerdmans was born in 1923 and started work at the company when he was thirteen. He became president of the Eerdmans Publishing Co. in 1963, taking over from his father, Bill Eerdmans Sr., who founded the company in 1911. Bill is remembered both as a friend to all and as a trailblazing publisher who broadened the company's list beyond its Reformed Protestant roots to comprise books on ecumenical and interfaith dialogue and on race, gender, and other social issues while continuing to publish the scholarly titles for which the company has long been well-known.
"Not for Bill the idea that publishing should cater to the latest trends. The point was to lead, not follow," said longtime Eerdmans editor-in-chief Jon Pott. "Bill's command of his field was impressive and his singular publishing achievements were many and great. . . . But it was Bill the deeply committed but high-spirited publishing personality who somehow counted for most, in the books and authors he directly pursued and in the heady oxygen he provided for the rest of us. He knew his work, but he also thoroughly relished it, from restaurant idea to finished book, from dizzying first authorial encounter to plunk of the final product on his overburdened desk."
Eerdmans's wife, Anita, who took over as president and publisher of the company in 2014, said: "Bill loved joking around, and sometimes you could almost see the wheels turning in his head as he tried to come up with the perfect clever phrase for the moment. Yet he also took his work very seriously. Until the last few years, most evenings would find him with an Eerdmans book or a potential Eerdmans book in his lap, even on vacations! He was responsible for some very important books and series that we published over the years, and our longtime interest in religious perspectives on important political and cultural issues grew out of his own personal concern about those issues."
There was be a private family graveside service last week with a public memorial service to be planned when large gatherings are safe.